In this blog I'm sharing the best way to dry herbs from your garden. Follow along to find out how to use a food dehydrator to preserve fresh herbs quickly and easily.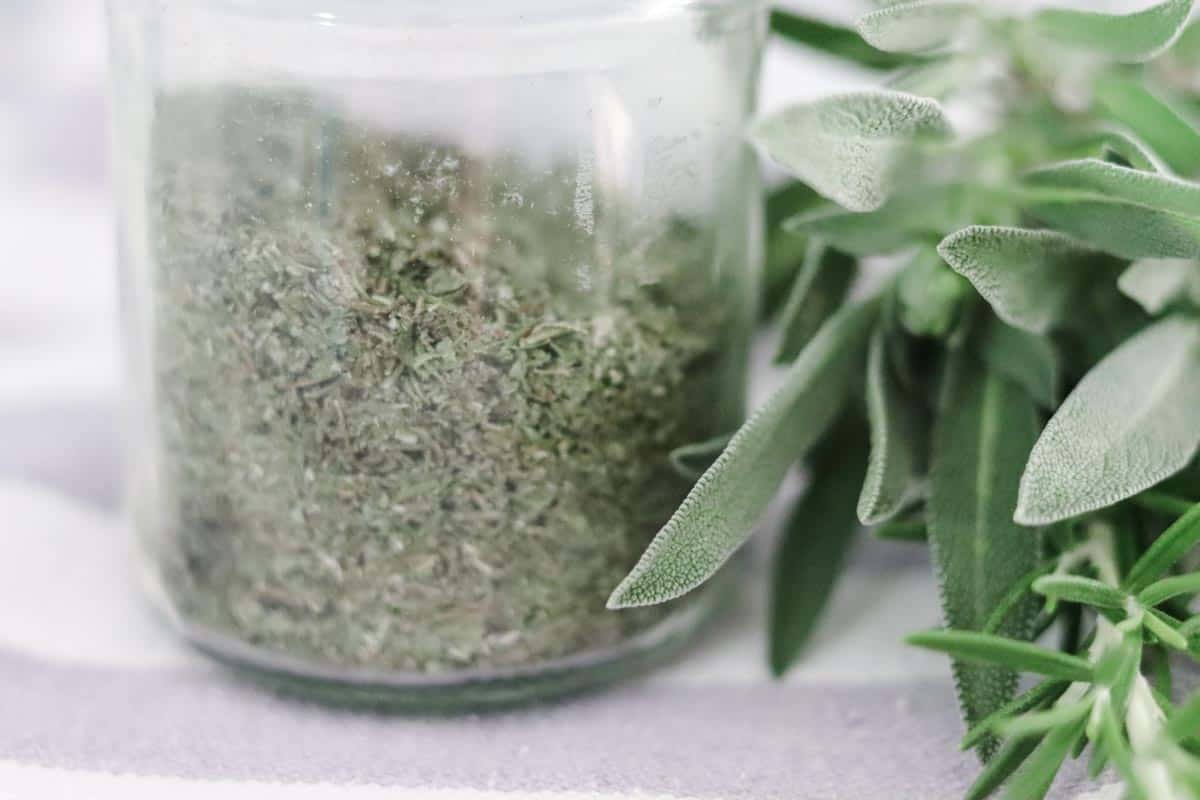 Jump to:
Homegrown dried herbs have so much more flavour, colour and aroma than store-brought.
I love using home-grown dried herbs to add a boost of flavour to wholesome home-cooked dinners, like my air fryer chicken drumsticks.
Plus, dried herbs are more concentrated, so you only need a little pinch to add huge amounts of flavour.
In this blog I'll show you the best way to dry herbs using a food dehydrator so you too can enjoy homegrown herbs year-round.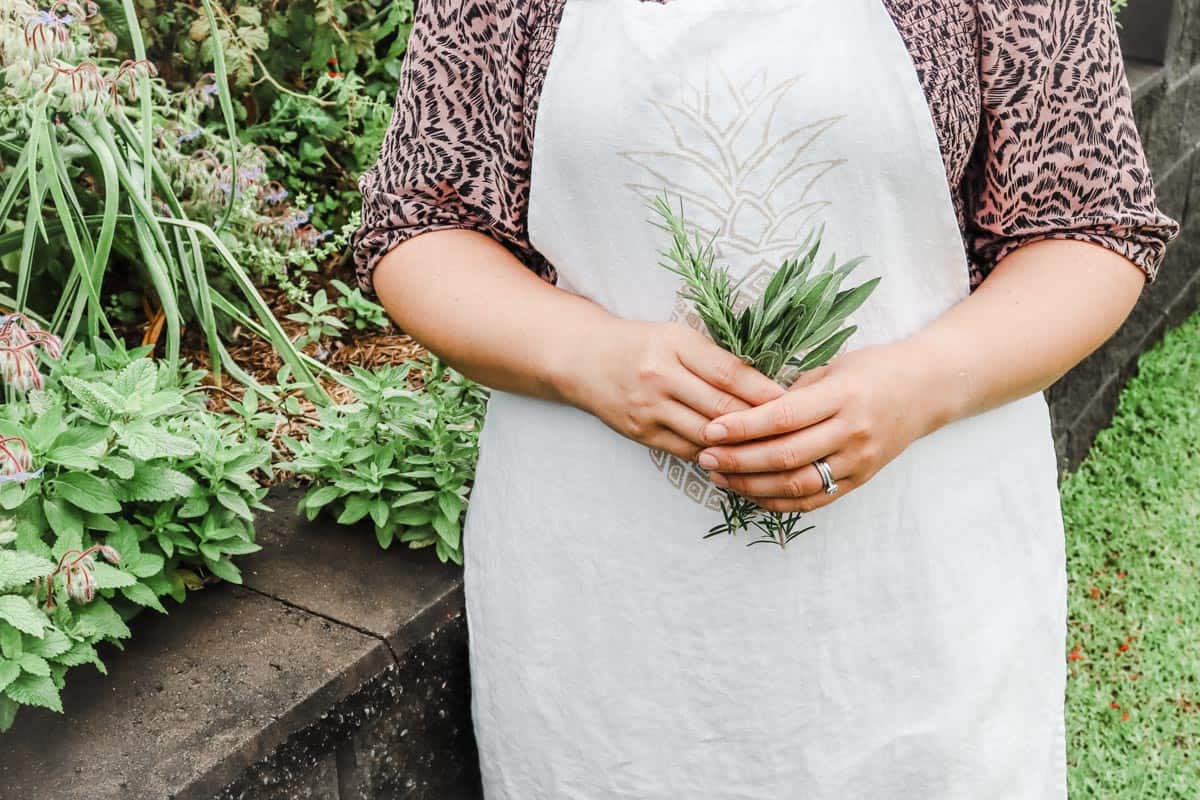 How can you dry herbs?
There are quite a few ways to dry herbs; you can hang them in bunches and let them air dry, place them in the oven for a number of hours on a very low temperature, or leave them out in the sun, but I think best way to dry herbs is to use a food dehydrator.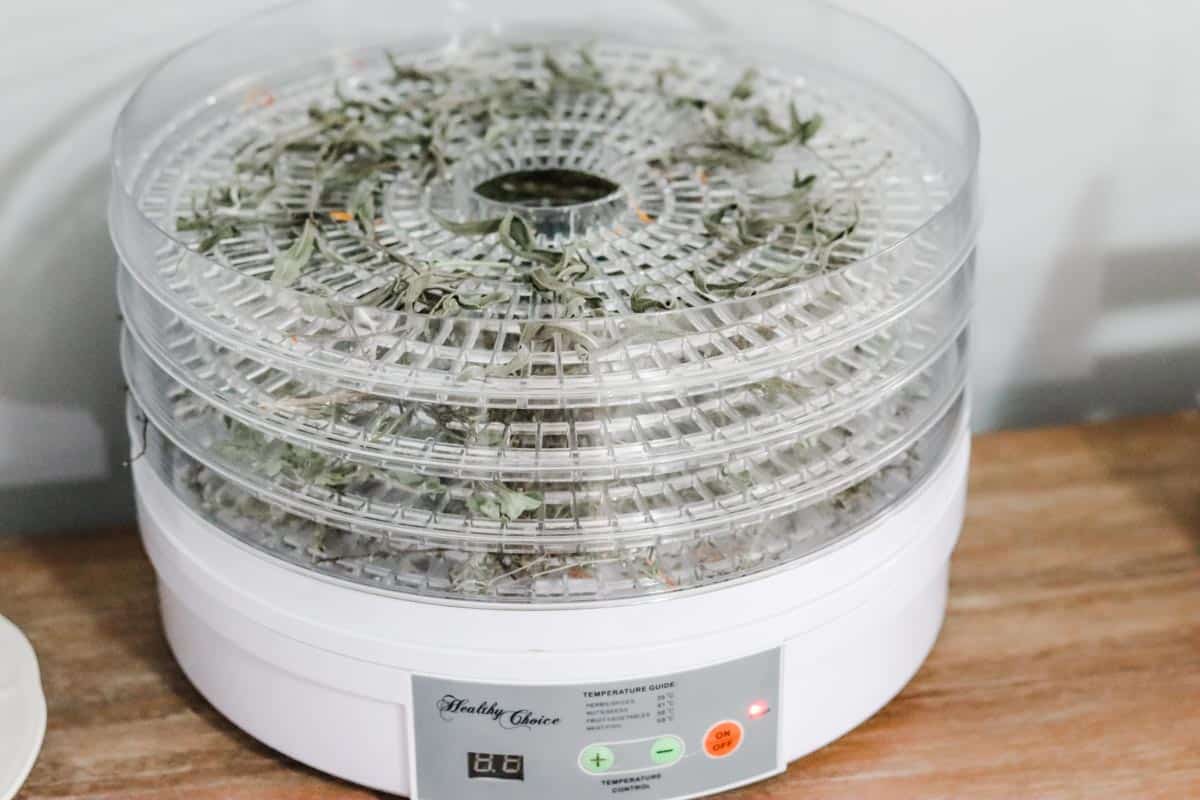 Why you'll love using a dehydrator
Quick and easy: Drying herbs in a food dehydrator is quick and easy and delivers consistent results.
Affordable and versatile: At under $100 a food dehydrator is a very worthwhile investment if you like to make food from scratch. I also use my food dehydrator to make herbal teas and to preserve other fruits and vegetables.
Less chance of mould (mold) developing. Because the temperature and humidity is controlled during the drying process, there is less chance of mould (mold) developing while the herbs are drying out. This is especially important in humid climates like mine.
Compact and convenient. You can keep a food dehydrator right by the kitchen so you don't forget about it. Plus it's indoors and out of the elements so you don't have to worry about rain. If you become busy the food dehydrator just keeps doing its thing until you're ready to take the herbs out.
Properly dry. Using a food dehydrator takes some of the guesswork out of home preserving. Once the herbs are crispy you know they're ready to take out and can be preserved safely. You can rest easy knowing that your hard work won't be in vain since the herbs have been dehydrated properly.
Keeps nasties out. Drying herbs in a food dehydrator with purposed-designed racks and a lid means there is very little risk of anything like mice, insects or dust getting into your herbs while they're drying.
Tools you may need
Food Dehydrator - Get it here (AU readers), or similar here (USA and other readers).
Blender - Get it here (AU readers) and here (USA and other readers).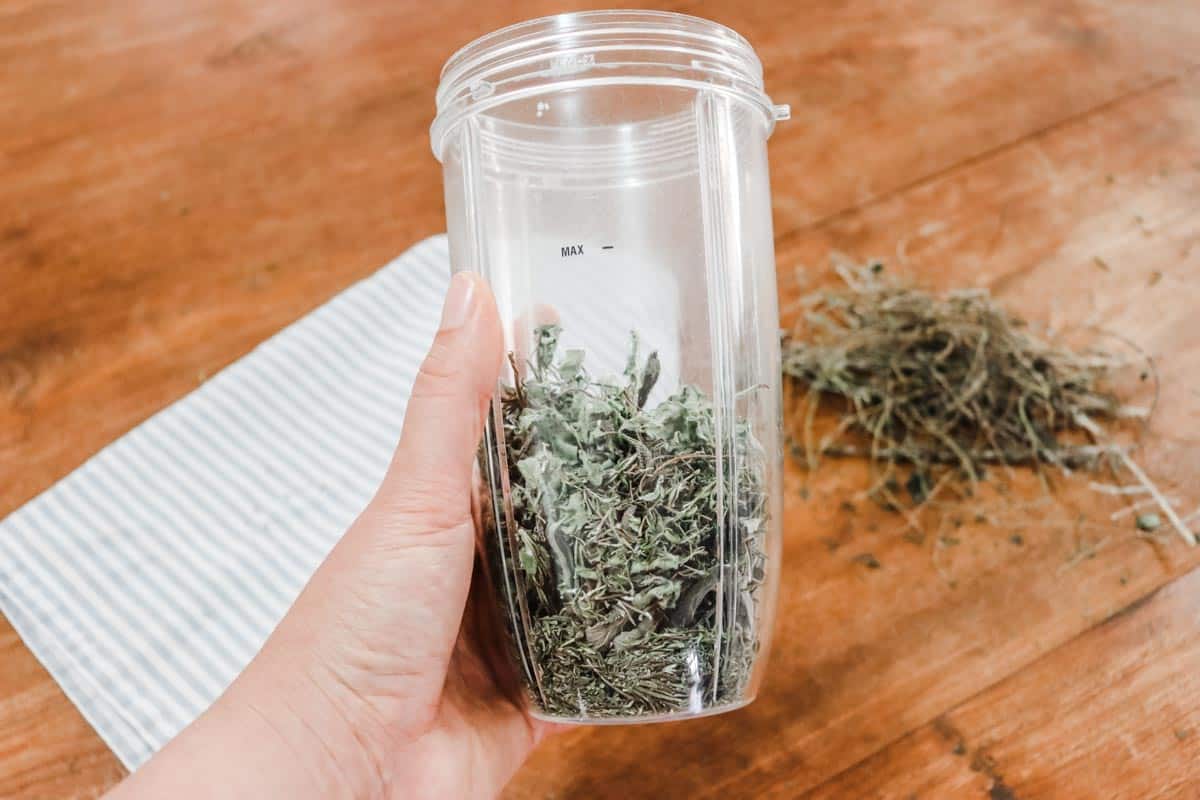 Favourite herbs to dry
I like to make a multi-purpose dried herb blend but you can also just dry and preserve single varieties. My go-to herbs to dry and blend are:
sage
rosemary
thyme
oregano.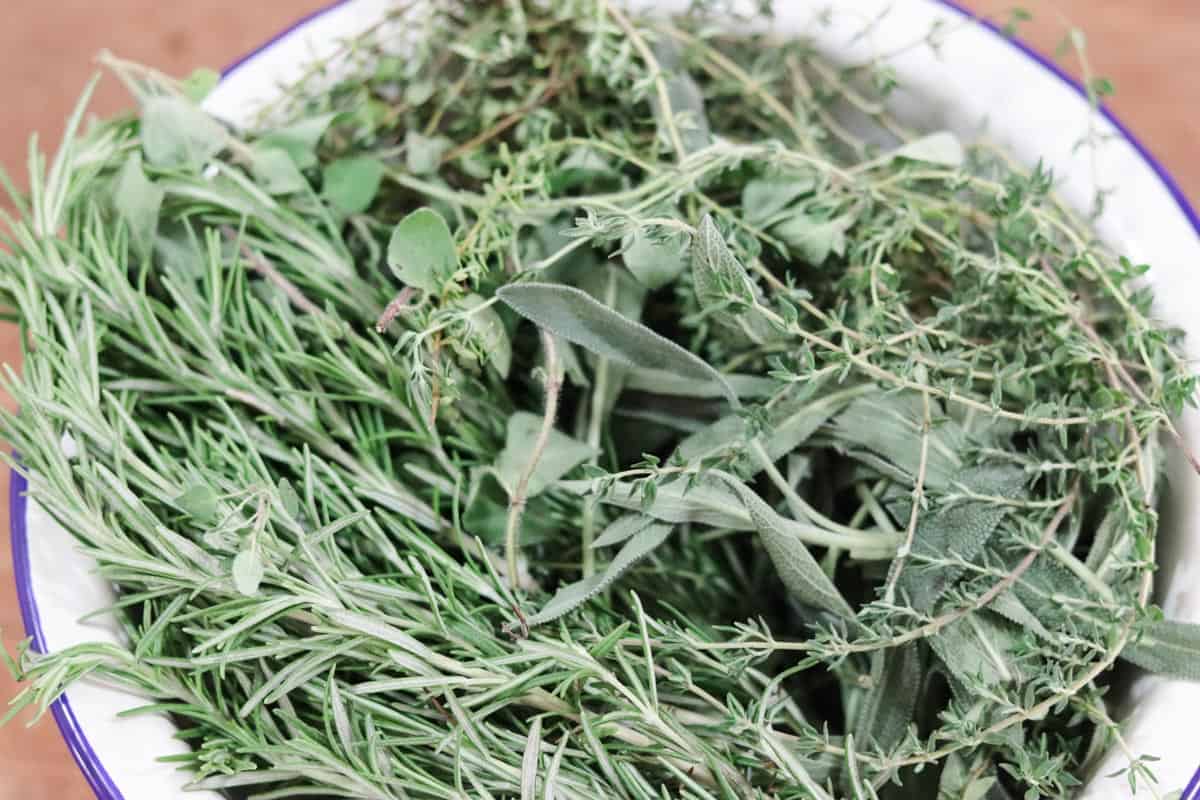 This versatile blend works well to season all kinds of meats, soups and stews, plus all of these varieties grow easily in my climate.
The added bonus of drying your own herbs is that you can experiment and find your own favourites!
How to dry herbs from the garden
Follow these easy steps to dry your own homegrown herbs from the garden using a food dehydrator.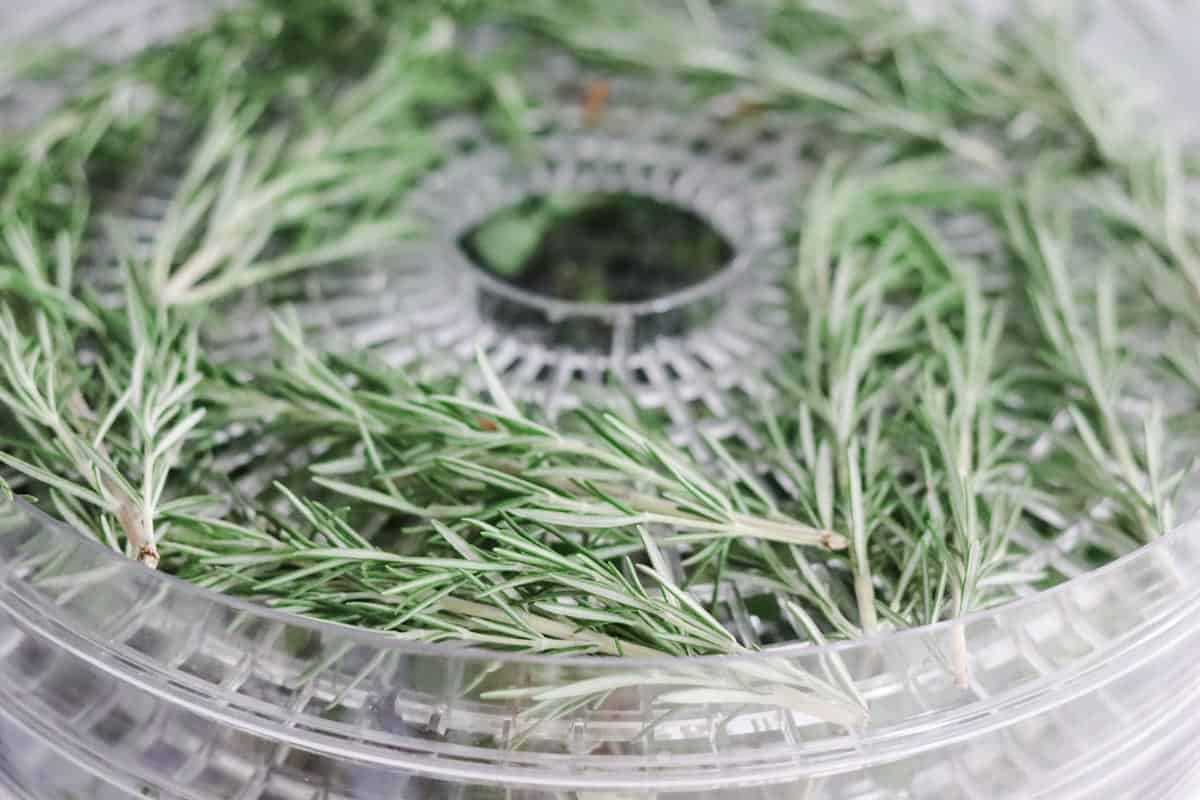 Wash and dry the herbs thoroughly and place them in a single layer on the dehydrating trays. Place each type of herb on a separate tray.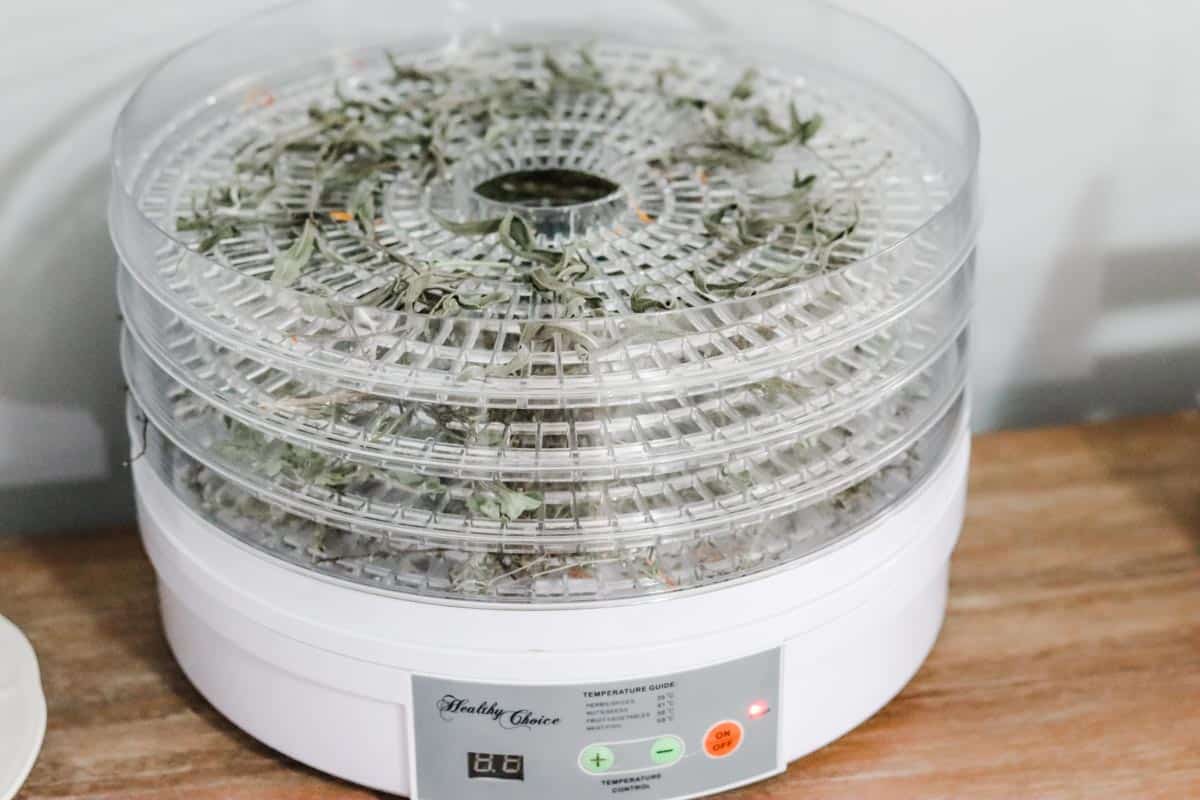 Place the lid on the unit and set the temperature to 35 degrees Celsius (95 degrees Fahrenheit). Allow the herbs to dehydrate until fully dry and crisp. This large batch took about two days.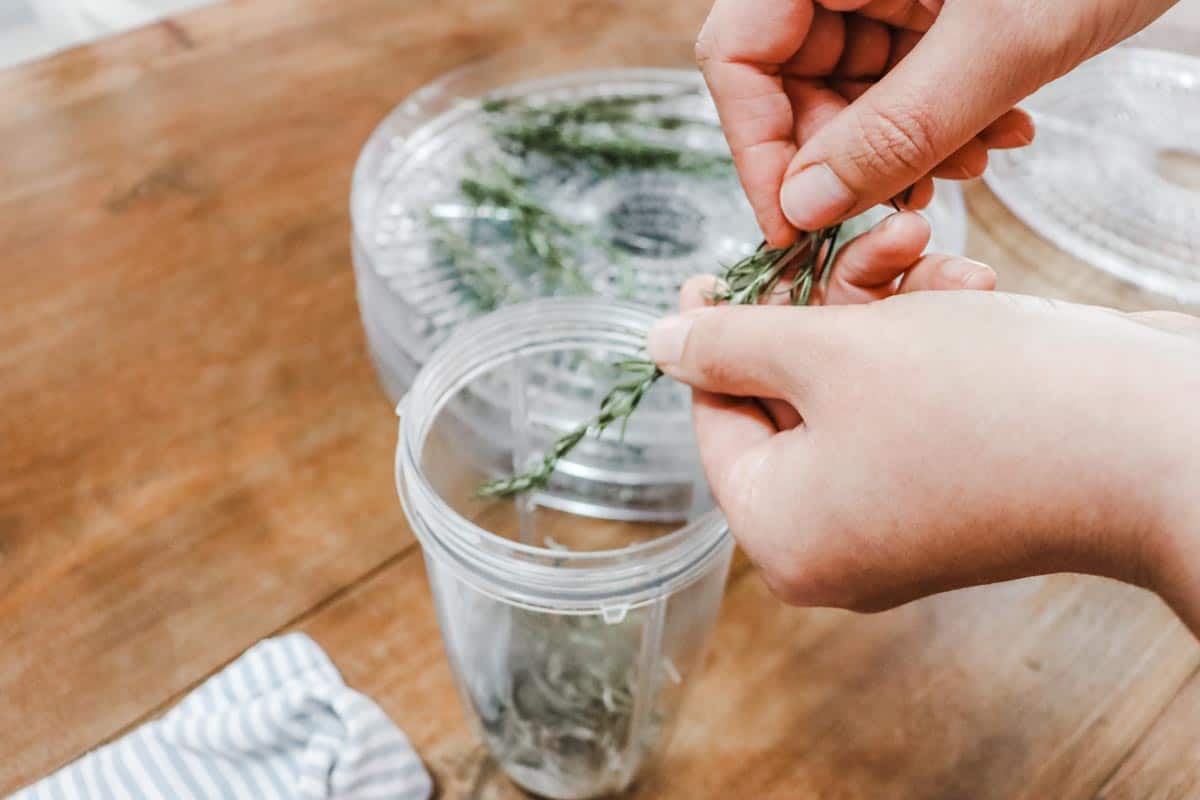 When fully dry, strip the leaves from the woody stems (discard the stems) and place the dry herbs into a clean, dry blender.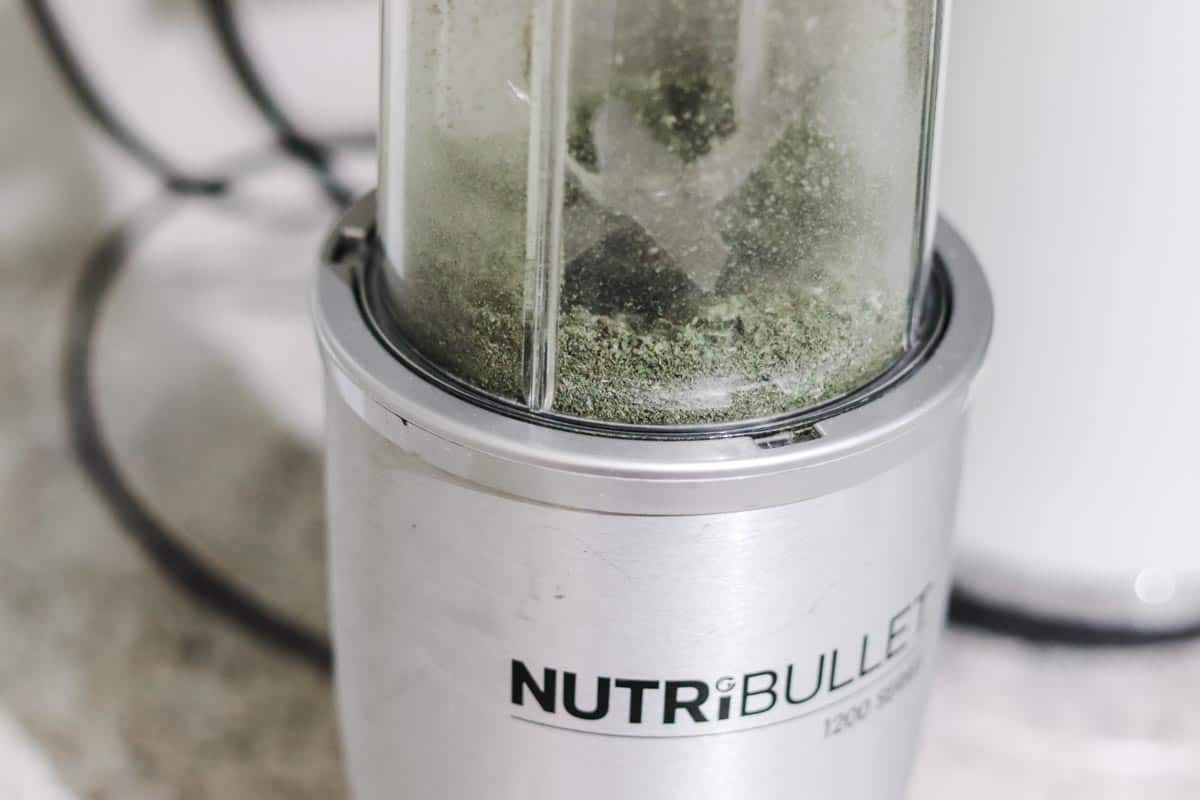 Blend very briefly until the leaves are coarsely ground. Transfer to an airtight container.
Top tip
Place each type of herb on a different rack in the dehydrator so you can more accurately judge when each type is completely dry.
Where to store dried herbs
Immediately store dried herbs in an airtight container (I like to use glass) in the pantry out of direct sunlight and away from heat. Dried herbs can also be stored in the fridge or freezer.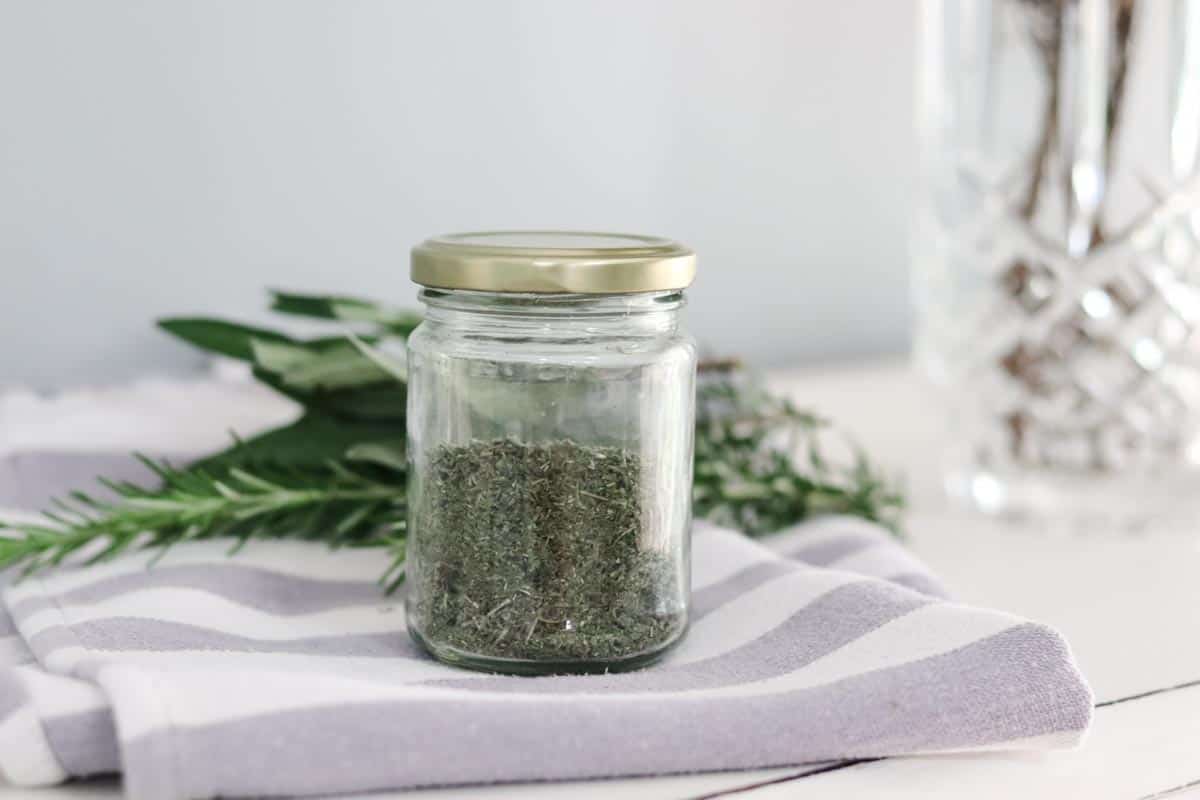 How long will dried herbs keep?
Correctly dried and stored herbs are shelf stable and will easily keep 12 months, however, I recommend keeping them no longer than 3 months to ensure quality of colour and flavour.
You can add a moisture absorber to the container for extra protection. I like to recycle moisture absorbers from vitamin supplement bottles but you can also buy them online.
Frequently asked questions
Can dry herbs get mouldy (moldy) and go bad?
Yes. If dried herbs are not kept completely dry, they can become mouldy and go bad. Use a food dehydrator to ensure the herbs are fully dried before storing them in an airtight container. You can also use a moisture absorber for added protection.
Can dried herbs be frozen?
Yes, dried herbs can be stored in the freezer.
What temperature to dry herbs in a dehydrator
Dry herbs in the dehydrator at 35 degrees to preserve their colour, aroma and nutrition.
What herbs are good for drying?
You can dry pretty much any time of herb but according to Better Homes and Gardens "some herbs, such as rosemary, sage, thyme and bay leaves, are easier to dry than others because their leaves are firmer and they contain oils. Herbs with softer leaves, such as parsley, basil, mint and tarragon, are more affected by moisture and can go mouldy during the drying process."
Should I wash my herbs before drying?
Yes, rinse your herbs in fresh water to remove and dirt, insects or other debris before drying.
Can you dry different herbs together?
Different herbs will have different drying times, so I recommend placing each type of herb on a different rack in the dehydrator so you can more accurately judge when they are completely dry.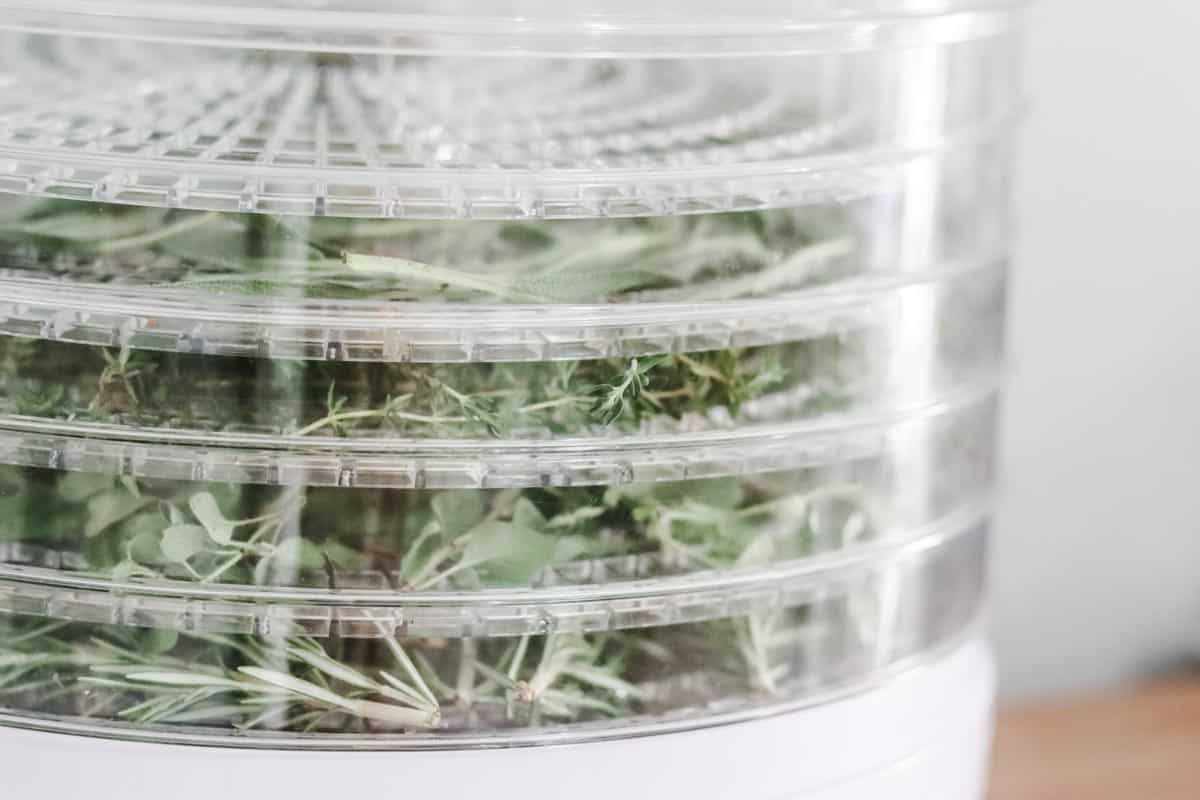 Thanks for following along!