Learn how to make a veg patch and start growing your own fruit and vegetables with these simple tips and tricks. Find out what equipment you need, garden care basics and how to choose what to plant.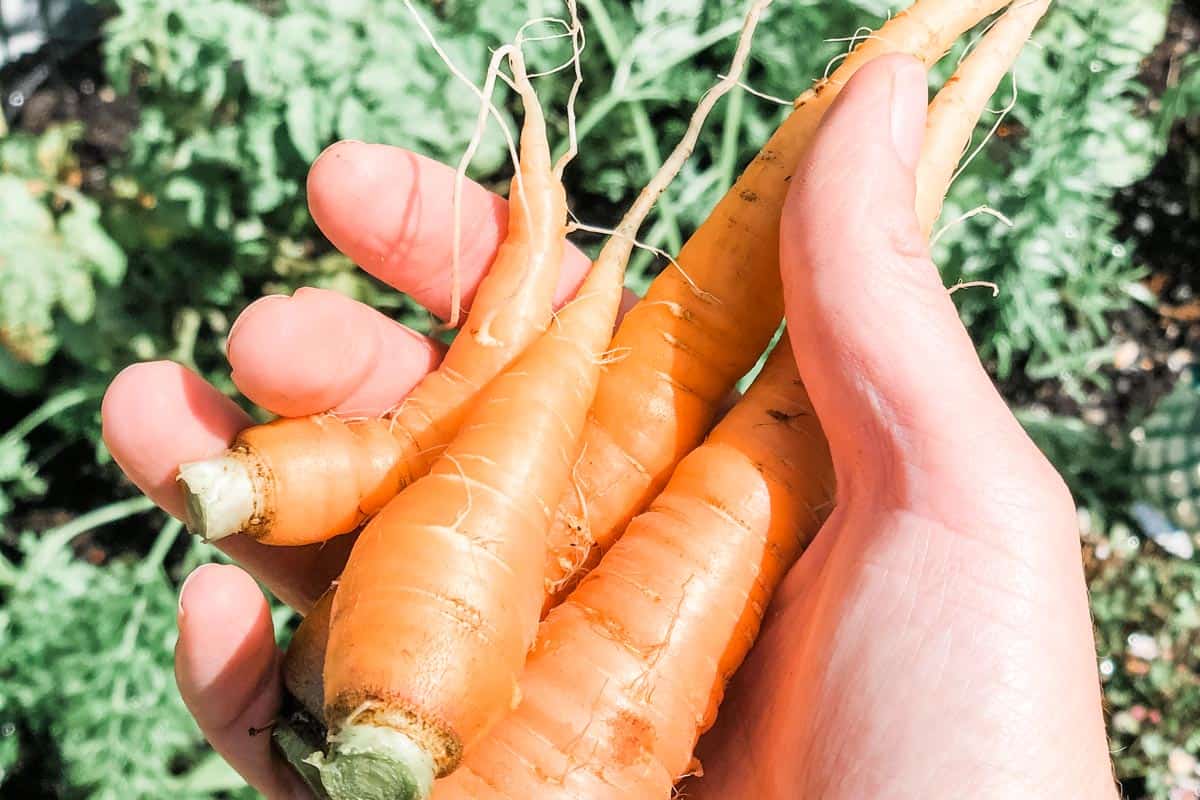 Jump to:
The one thing I miss most about my old house is my garden. I had toiled to build an amazing veg patch, brimming with fresh herbs, tomatoes, flowers, passionfruit, zucchini, strawberries and more.
We planted blueberries and citrus trees in the hope they'd become strong and healthy fruit providers for years to come.
We sold our home in late 2019 to spend a year travelling as a family. Now we're renting until we find a new place to call our forever home and I've had to start all over again.
So, if like me, you're at square one and want to start a veg patch, this post is for you.
Whether you're a green thumb or serial plant killer, there is an option for everyone. It doesn't need to be expensive and you don't need to have a lot of gear.
There is so much to be gained by starting your own veg patch; the feeling of accomplishment of growing something yourself, the wonder of watching mother nature do her thing, and the excitement of the harvest.
Planted at the right time, and with plenty of sunshine and water, you'll be amazed at how well backyard fruit and veg grow with relatively little intervention.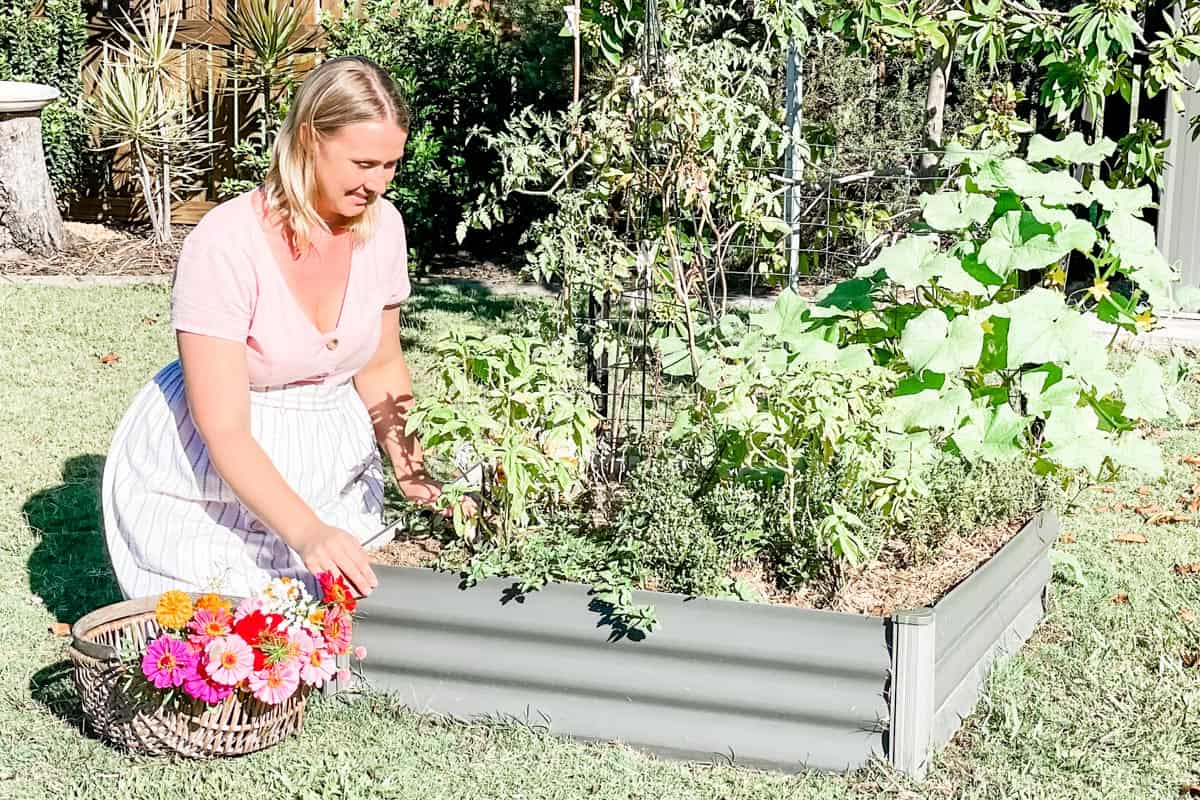 The kids will love getting involved with planting and harvesting too.
When it comes to planting fruit and veg, you have the choice of either raising seeds, or buying seedlings from a grower.
Raising plants from seed is great and will save money but for beginners it can be a good option to start with seedlings to save time and start harvesting sooner.
Buying seedlings works best for me because I'm short of time and like outsourcing the seed raising to the professionals.
So let's dive in and see how to make a veg patch with seedlings.
My top tips
Research your climate zone and suggested varieties before you dive in.
Choose varieties you usually buy and eat.
Buy seedlings from the local farmer's markets, so you can be confident that what you're planting will grow well in your area.
Start small and simple, and add new crops each season.
It's a good idea to start a garden journal to keep note of what works and what doesn't to help plan future crops.
Make watering and checking for weeds and pests part of your daily schedule.
Wear a mask for laying mulch.
Plant some edible and cut flowers amongst your fruit and veggies.
Suggested Equipment
Organic soil/potting mix
Organic compost
Organic mulch
Pitchfork
Bamboo canes, and or garden trellis (for climbing varieties)
Seeds or seedlings
Hose with shower head attachment or a large watering can
Face mask
How to do a veg patch
Step 1: Choose your structure
The way you choose to construct your veg patch will be determined by a couple of factors like your budget, the current state of your garden and the varieties you want to grow. In very hot or cold climates you may need to consider insulation such as green houses to extend the growing season.
A simple raised bed kit is a great option for beginners. These are affordable, quick and easy to assemble, and you can pair them with growing frames for climbing varieties.
You can buy galvanised steel raised garden bed kits online, or make your own with timber. Be sure to use untreated timber so chemicals don't leach from the wood into your veg patch. Lisa from Farmhouse on Boone recommends using Cedar to construct garden beds on the cheap.
We have a small raised bed here at our rental home, so naturally I decided to use this as the structure for our little veg patch.
I've added some hardwood stakes to reinforce the sides of the bed, and to hang a garden net to keep the chooks out.
There is a wire wall at the back and a trellis in the middle to provide support to climbing plants.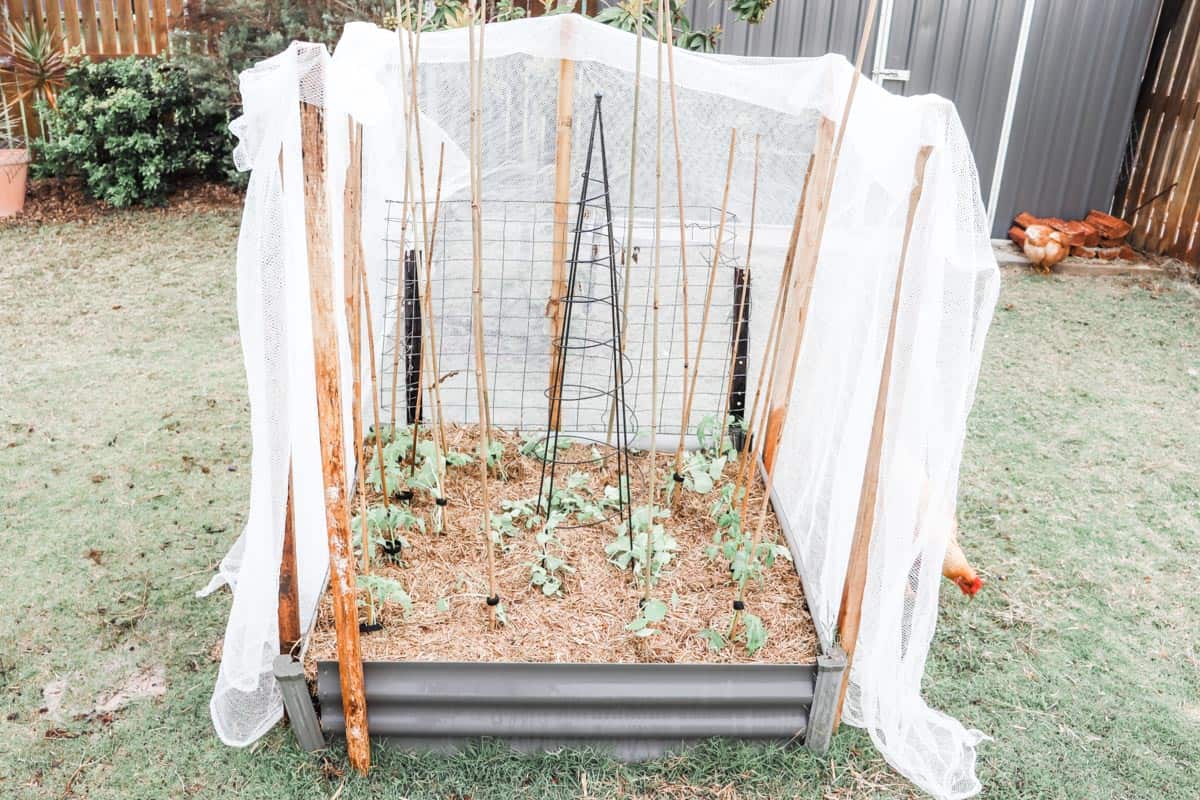 Step 2: Picking a location
Now you've decided what to build, you may be wondering where to place your patch.
Choose a sunny, north-facing position, opting for morning sun and afternoon shade in hotter climates.
You will also need to consider proximity to a water source, whether you will watering by hand, or installing an irrigation set up.
Step 3: Planning your crop
Planning your crop is essential to the success of your veg patch. The planning process will help you answer questions like how much sun does your veg patch need, when to plant and how big you should make it.
The best way to plan your crop is to simply think about what you and your family likes to eat and cook with most. Make a list of ideas and then check the Gardening Australia website, or your trusted local gardening guide, to check what will grow well in your climate zone, and what time of the year you should plant.
When you're starting out, choosing just a couple of easy-to-grow varieties works best.
I live in a subtropical zone, and we're going into Spring now, so I opted to plant cherry tomatoes, snow peas and nasturtiums.
I chose cherry tomatoes because organic ones are really expensive to buy. My kids love them and they're great for salads, pizzas and lunchboxes.
A term you might come across in your research is companion planting. Companion planting is important for organic gardening because companion plants help each other, which reduces the need for chemical pesticides or soil additives.
For example, planting nasturtiums as a sacrificial crop alongside your vegetables will help keep caterpillars at bay by offering a more attractive alternative.
Planting snow peas alongside your cherry tomatoes help draw nitrogen into the soil which helps tomatoes thrive.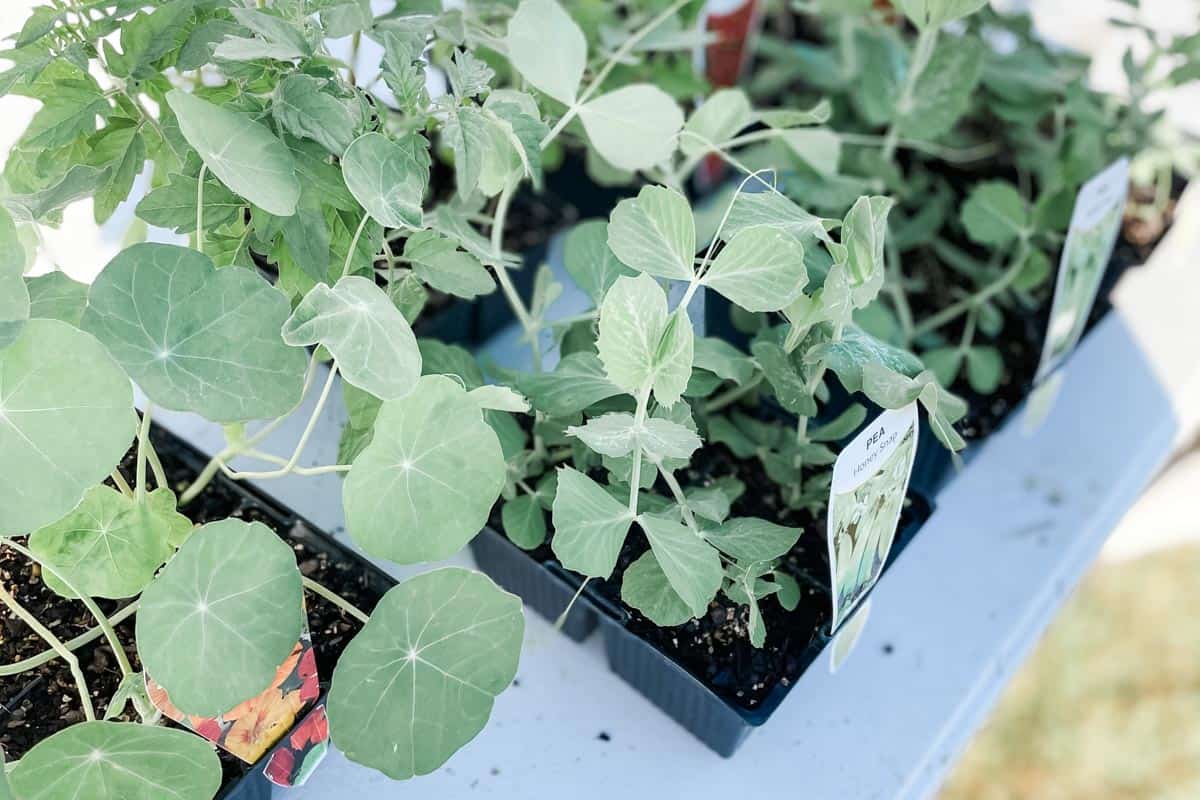 Step 4: Prepping the soil
Understanding soil health is important to grow fruit and vegetables but it can be complex and scientific. It's ok to just get started without knowing it all. In fact if you're like me you will find that's the best way to learn.
Some basic tips include aiming to create a loam type soil composition in your veg patch (you can buy potting mix in bags for small areas, or have a load of soil delivered by a landscaping supply for larger ones) and adding compost (available commercially, or make your own).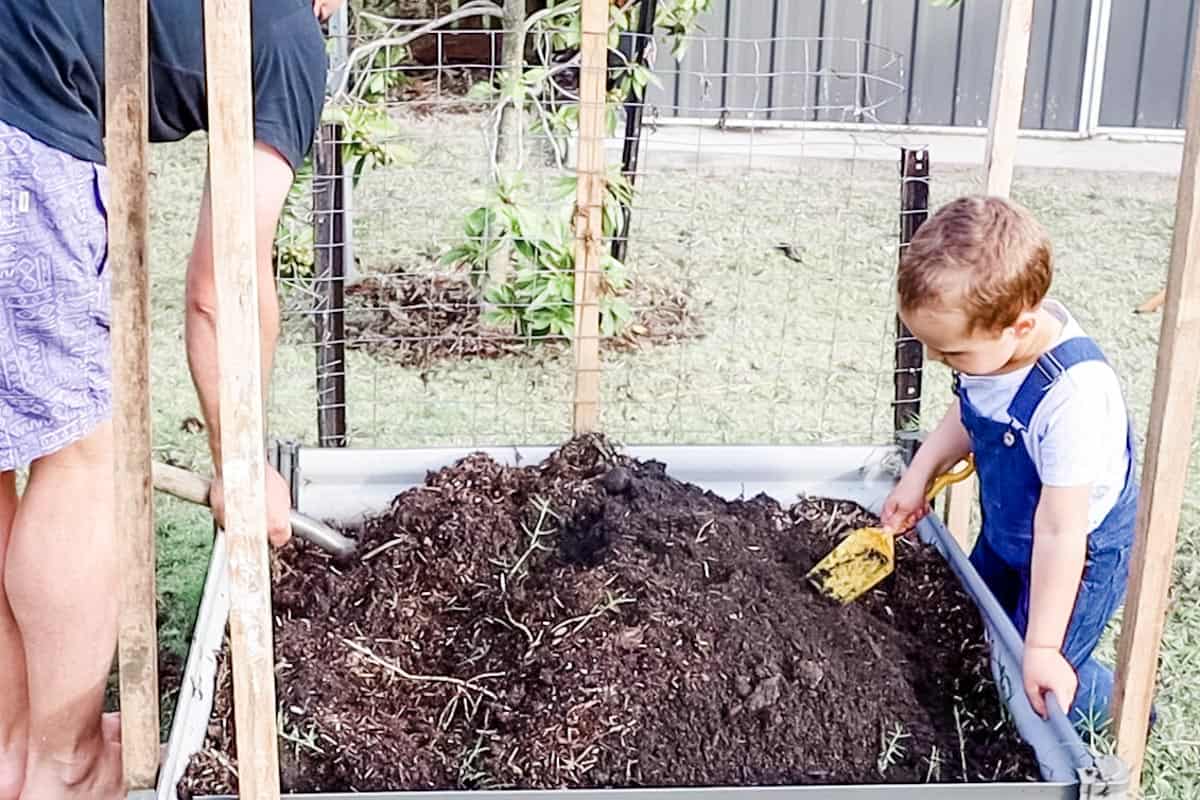 Step 5: Planting
Read the instructions that come with your seedlings to determine their individual sun and water requirements as well as the recommended spacing between plants to plan the layout of your patch.
I decided to plant my snow pea seedlings along the back wire wall of our raised bed and in the centre around a trellis so they can climb upwards as they grow. I then planted the cherry tomatoes around the back and sides of the patch for ease of harvesting, and finally the nasturtiums in between the other crops as ground cover.
To plant the seedlings simply make a small hole in the garden bed, the same depth and height as the seedling pot.
Gently squeeze the sides of the pot to release the seedling and transfer the seedling into prepared hole.
Once in place, firmly press the surrounding soil into the base of the seedling, ensuring the stem and leaves remain uncovered.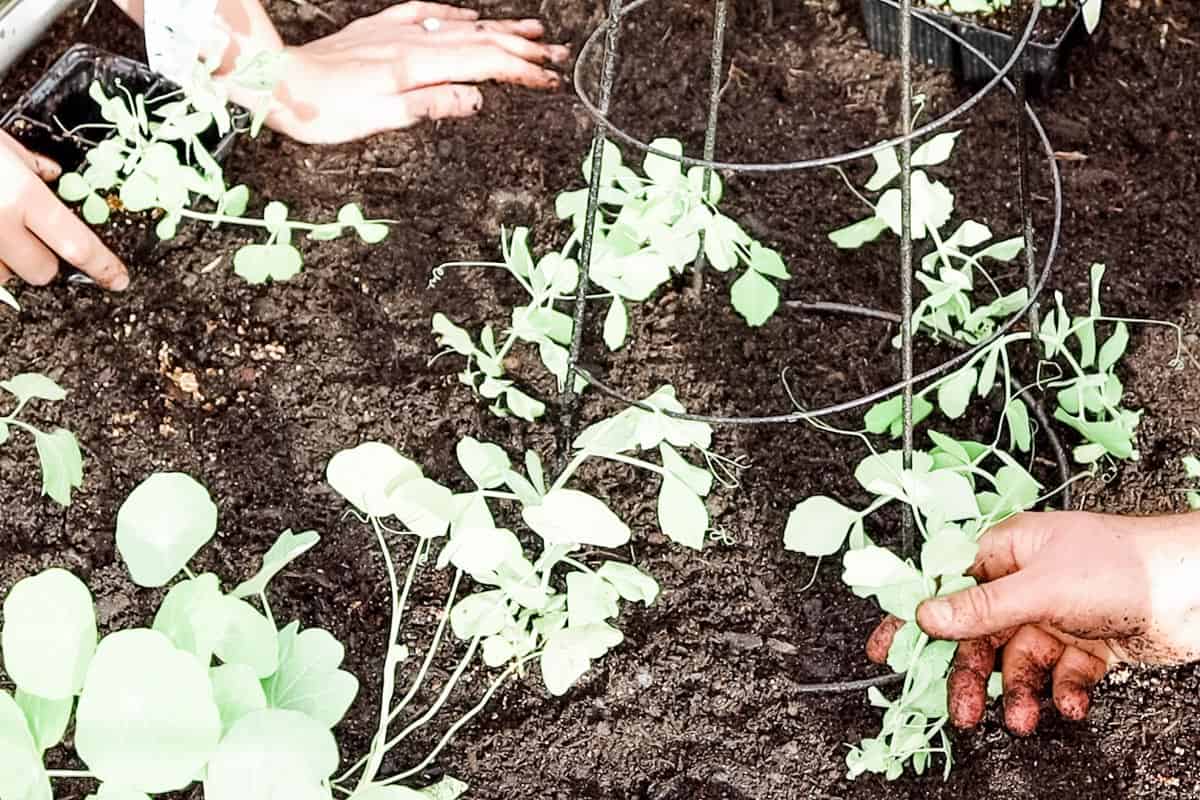 Step 6: Mulching
Add a layer of mulch to guard against weeds and moisture loss. Again, ensure the stem and leaves remain uncovered.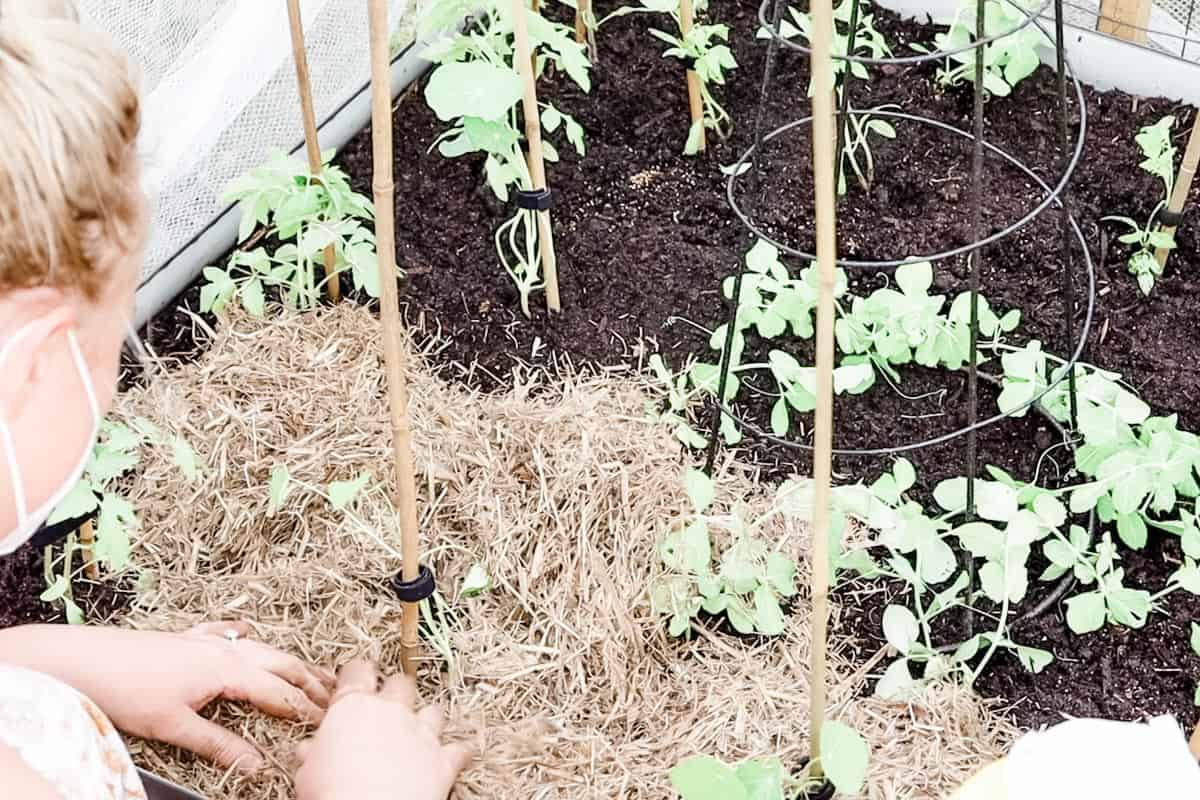 Step 7: Watering and daily care
Immediately after planting, give your seedling a good watering.
You will need to water your veg patch daily, unless it's raining of course. I love waking up on rainy days knowing I have one less job to do.
The best time to water your vegetables is in the morning. This will ensure your plants have water when they need it most (through the hottest part of the day), and gives the leaves a chance to dry (to avoid mildew and other diseases).
Watering in the morning is a great way to get some sun, boost your serotonin levels, and spend some time in nature before you start the rest of the day.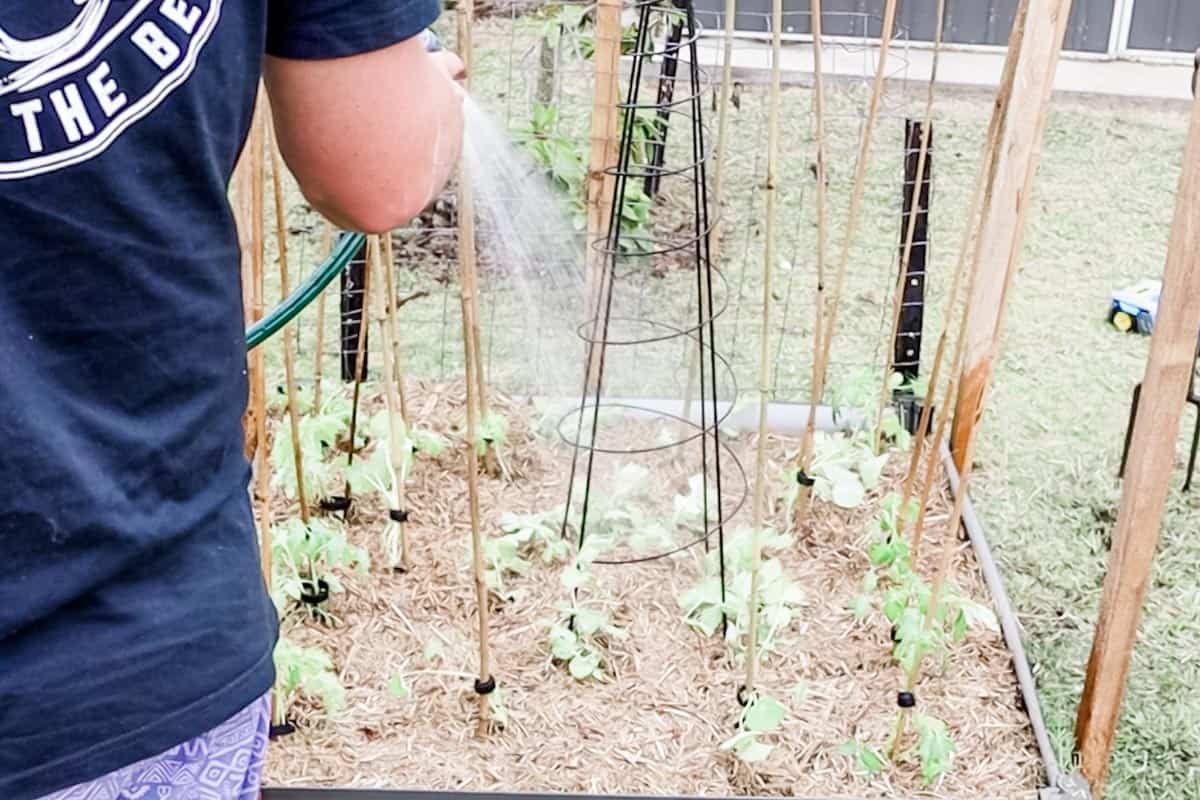 Use your time watering to check for signs of pests and disease and try and get on top of any problems ASAP. A quick google search will point you in the right direction.
To manage pests naturally, try pyrethrum spray or DIY white oil.
As everything starts to grow, thin out any sections that are being overcrowded and trim leaves from the lower stems to ensure good airflow around the plants. This will help prevent fungus and disease developing.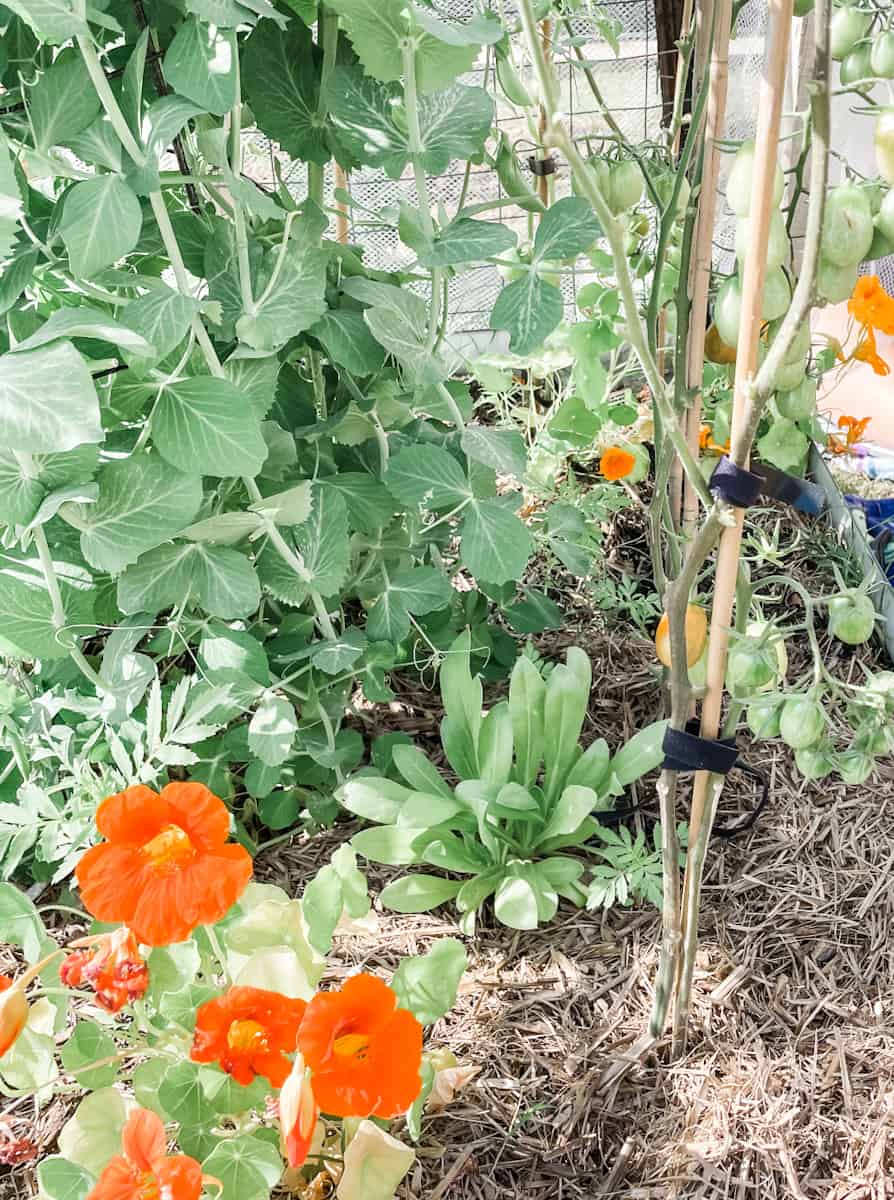 Step 8: Growing and harvesting
With some care and patience you will soon be harvesting your first crop.
Keep an eye out for flowers which when pollinated (by bees and other insects) will grow into fruits and vegetables. Certain varieties will benefit from hand pollination.
Often your crop will come on in a glut, so be prepared to harvest a large amount of fruits and vegetables in a short amount of time, and preserve your harvest for later use.
Freezing is by far the easiest way to preserve excess produce. Some vegetables need to be blanched (beans) or turned into sauce (tomatoes) for best results. Other preservation methods include jam making, pickling and fermenting.
Another great option for dealing with excess produce is to swap with other growers. This way you can access a greater variety without growing it all yourself. Ask neighbours or look for a produce swap group nearby. A quick Facebook search can help you find one in your area.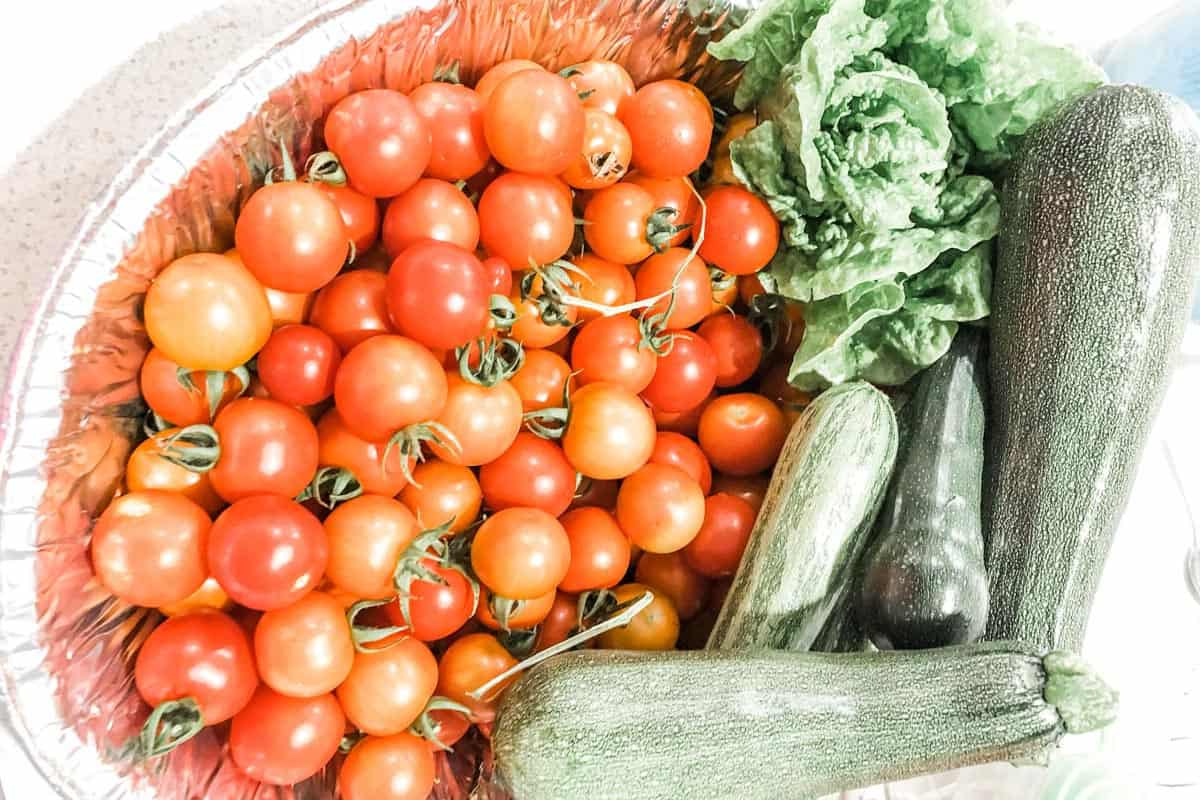 Watch the video tutorial
Frequently asked questions
When to plant a veg patch?
With the exception of snow or severe drought/water restrictions, thanks to our mild climate here in Australia, almost any time is suitable to plant a veg patch. Just make sure you pick crops to suit your climate zone and the season.
Where to put a vegetable patch?
If you have the freedom to choose any aspect, a north facing location works best, in a full-sun position that's not shaded by large trees.
How much sun does a veg patch need?
Plants love sun and need it to grow, but they don't like excessive heat, so in hotter climates, morning to midday sun is best.
Can you have a veg patch in the shade?
Some varieties such as leafy greens and some root vegetables will tolerate part shade. Refer to the planting information for each variety.
How big should you make a veg patch?
This depends on the varieties you choose to grow. Sprawling vines such as pumpkins and zucchini need lots of space, whereas vertical growers like tomatoes and snow peas need less.
A smaller veg patch will be easier to manage for beginners and part-time gardeners.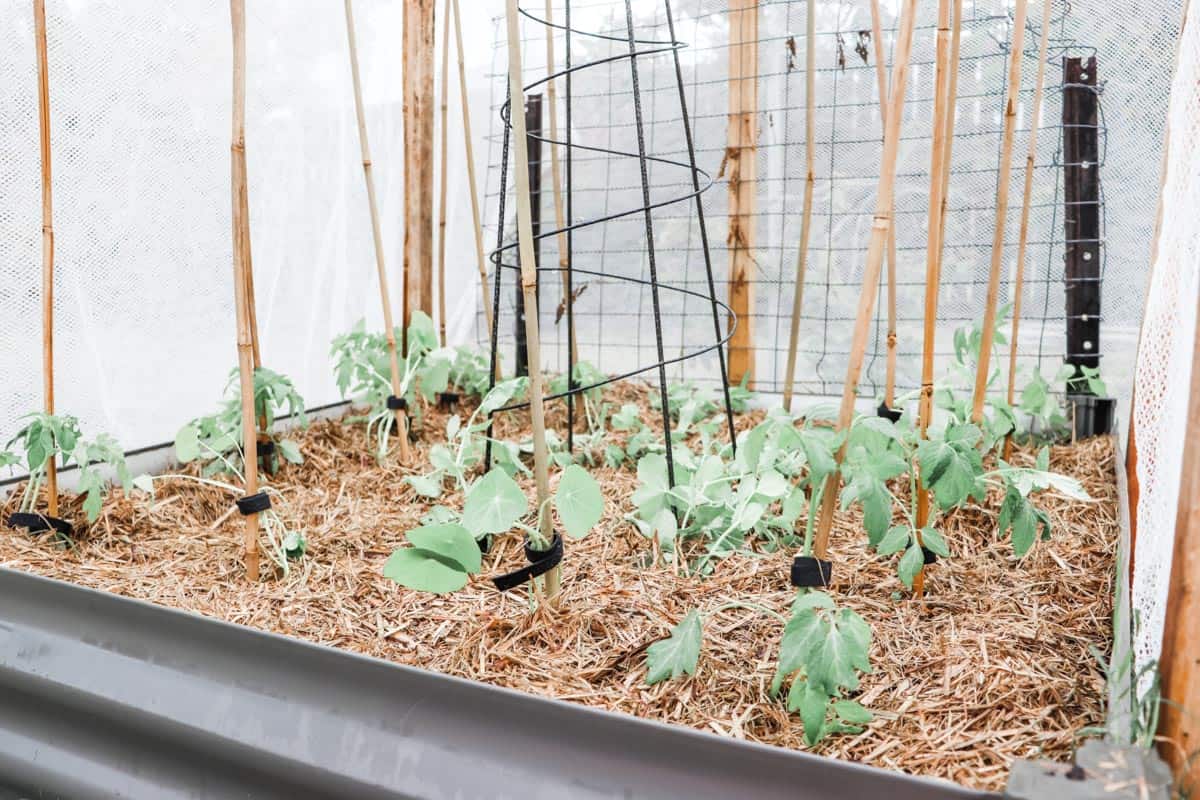 What is the best soil to use for a veg patch?
Your soil needs to be nutrient rich and well draining. Potting mix and loam generally work best. Regularly condition the soil with compost to keep it thriving.
When to manure a veg patch?
The best time to add manure or compost to your veg patch is between plantings/seasons.
Spray-on formulas such as seaweed or worm tea can be applied any time.
How to protect a veg patch from chooks, rabbit, cats and other small animals?
Small animals such as chooks and rabbits can chew up your veg patch in no time, and it's important to keep parasite-rich cat and dog droppings out of your soil. Use a fence or net to protect your crop from these miniature invaders.
We have used a lightweight garden net, timber stakes and stainless steel pegs to create a chicken-proof barrier. This is a quick, cost effective option that can easily be lifted or removed to allow access.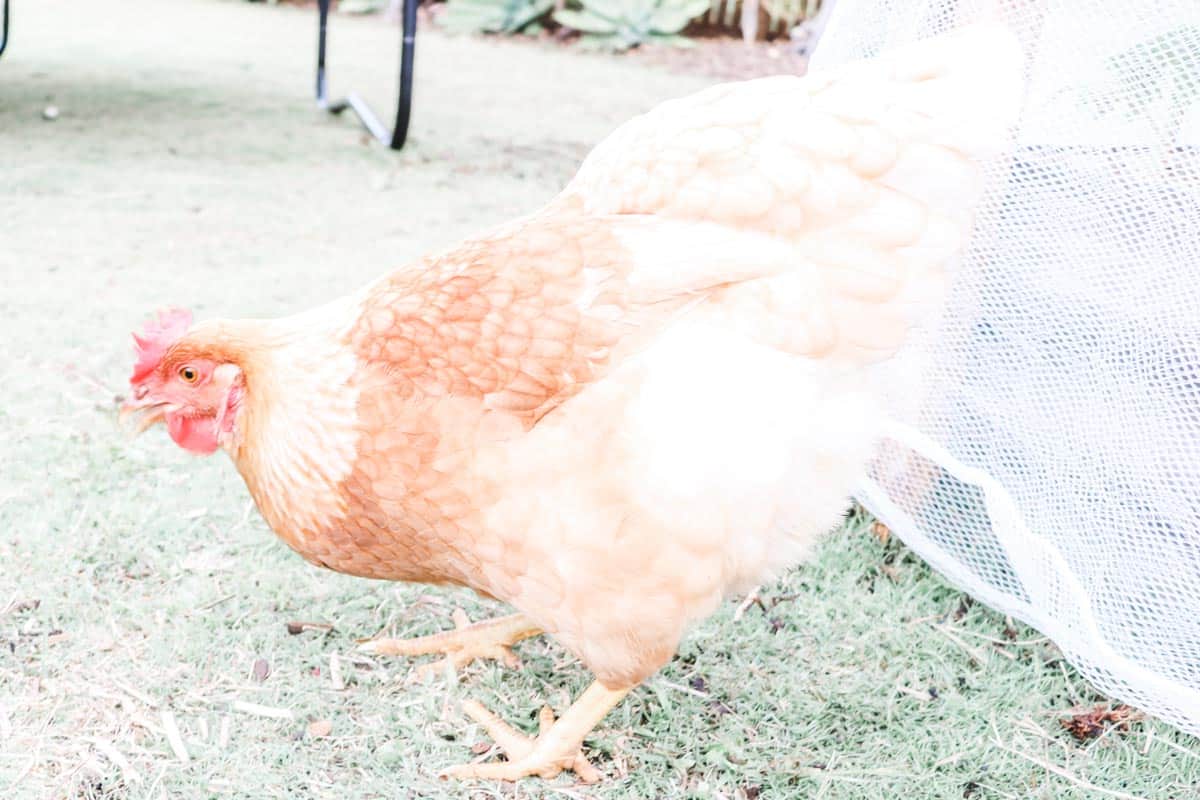 Thanks so much for following along.
If you're making a veg patch or enjoying your harvest be sure to tag us on Instagram @pineapple.farmhouse, we'd love to see it!