Learn how to dilute liquid Castile soap to use as hand soap with this simple, all-natural foaming hand soap recipe. I'll share where to buy the best Castile soap, what equipment you will need, my favourite hand soap hack, and how to create your own bespoke fragrance with essential oils.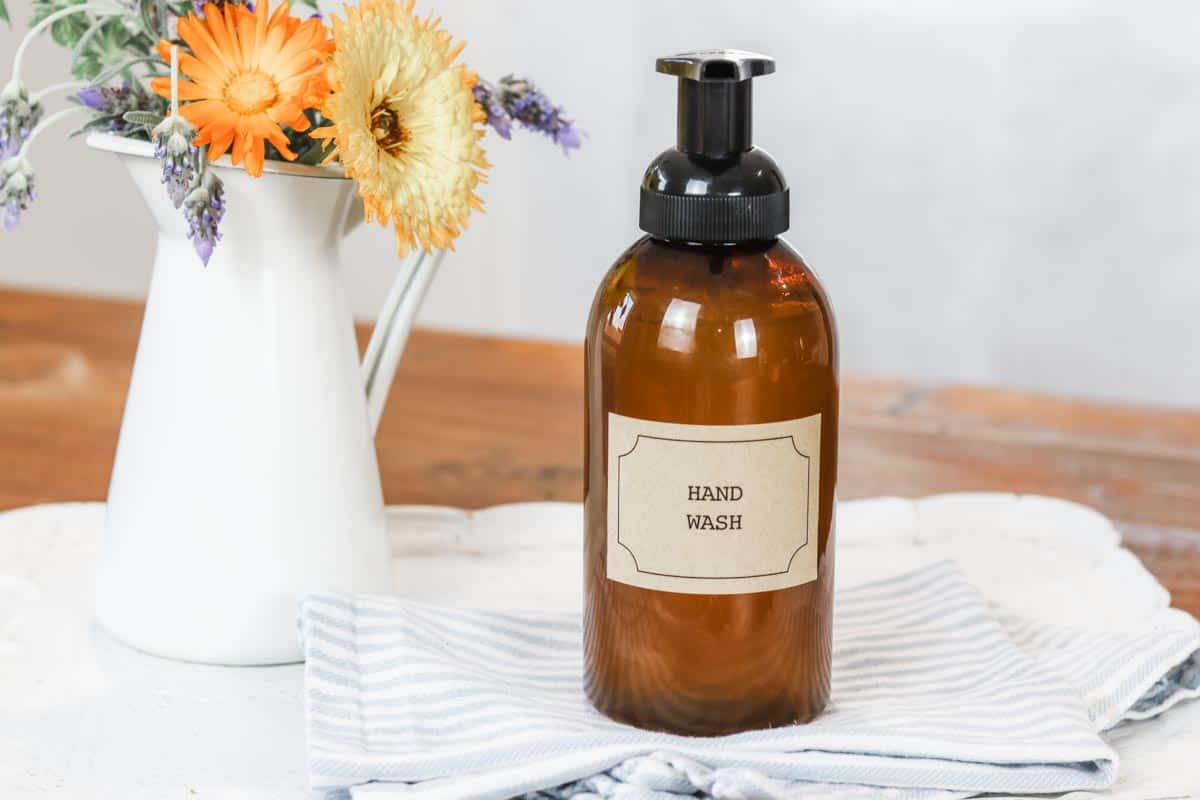 Jump to:
Before I knew better I used to use anti-bacterial liquid soap in my kitchen and bathrooms, and would replace the whole pump pack when it ran out. Now I've switched over to a much cleaner and greener solution; using liquid Castile soap as hand soap.
Castile soap is a versatile all-natural soap made from vegetable oil, available as a liquid concentrate or as an old-fashioned bar of soap. It's non toxic and biodegradable making it a great choice for homemade cleaning products. Find out more about the benefits and uses for Castile soap.
If you want to make the switch to natural home cleaning products, hand soap is a great place to start. We wash our hands many times a day, so changing to a non-toxic hand soap formula can have a big impact.
The thing is, we can't avoid exposure to chemicals all of the time, and it's unrealistic to live completely waste free, but this is one little change you could easily make today.
In this blog I'll share with you how I use liquid Castile soap to create your my bespoke foaming hand soap with essential oils in under 5 minutes.
Pin it for later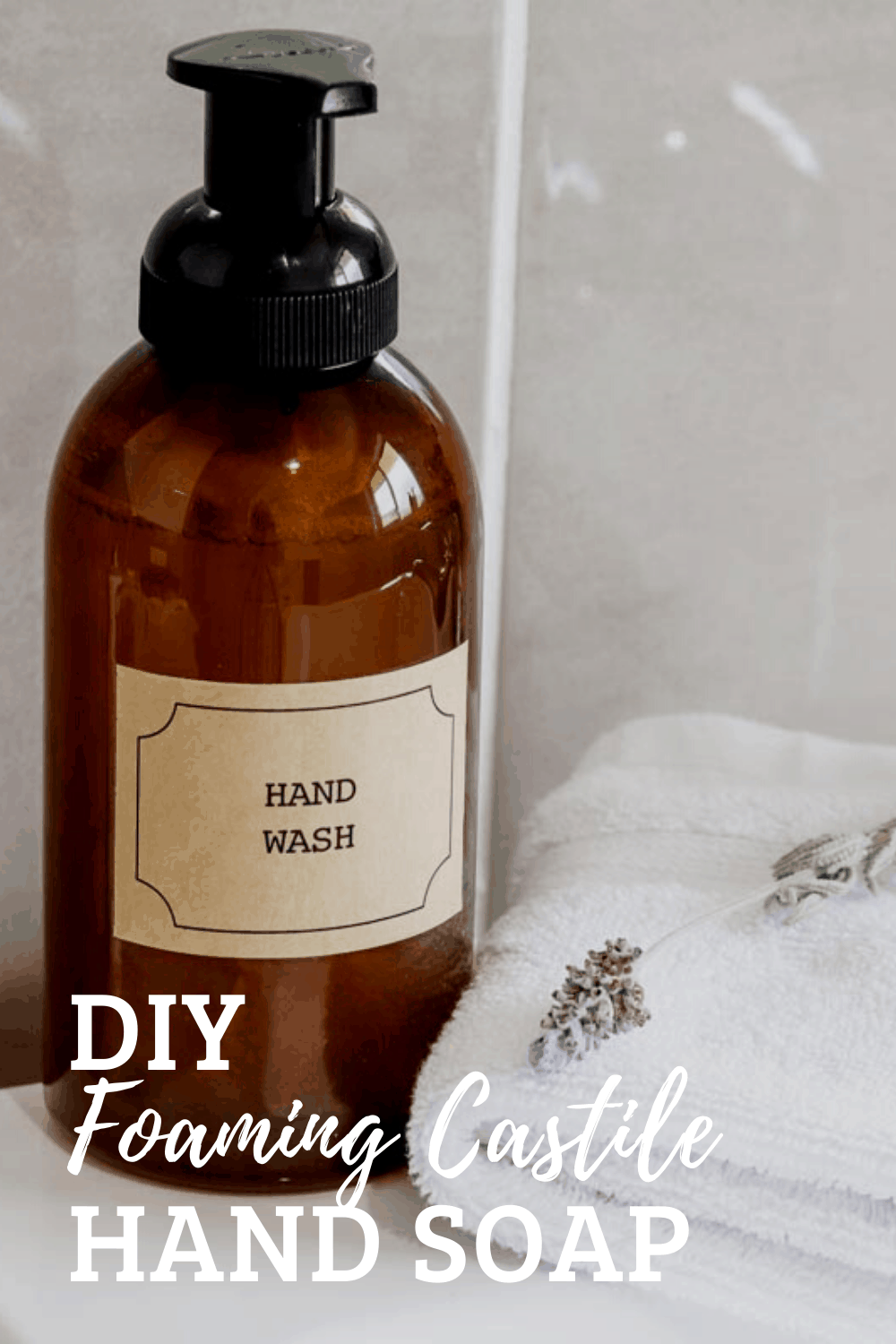 My foaming hand soap hack
I have found the key to enjoying Castile liquid hand soap is using a foaming soap dispenser. If you use a standard dispenser you may find the consistency of the soap is very thin and a little messy to use.
Using a foaming dispenser, and diluting the soap with water, creates a luscious foamy texture and makes your soap go a lot further, saving you time and money.
You can invest in a new foaming soap dispenser, or simply reuse an empty one like I did. I simply removed the old label and replaced it with a cute one from Target.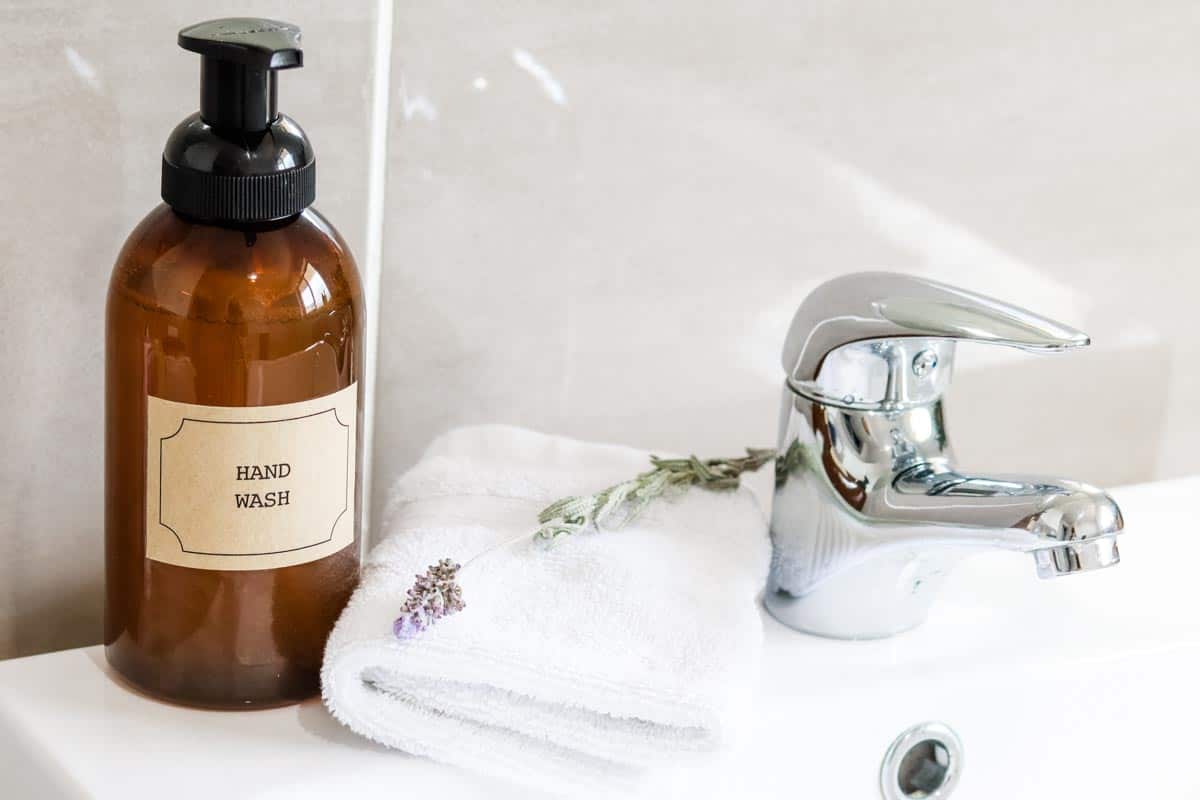 Castile soap dilution ratio for hand soap
I like to use a dilution ratio of 1:5, or one part soap to five parts water.
Where can you buy it?
If you're lucky you may be able to source liquid Castile soap locally from an artisan soap maker. I buy mine from the the farmers markets which is great value, super convenient and good for the earth too.
Dr. Bronners Pure Castile Liquid Soap is another popular brand you can buy online, or at many pharmacies and health food stores. They offer an unscented variety so you can add your own essential oils, or pre-mixed varieties such as organic peppermint, tea tree, and rose.
If you prefer to buy Australian made, try Biome Unscented Liquid Castile Soap.
How to make Castile foaming hand soap
The recipe below uses unscented soap. If you choose to use a scented variety, simply omit the essential oil.
Equipment you may need
Ingredients
70 ml liquid Castile soap, unscented
20 drops your preferred essential oil (optional)
Note: You can use tap water but if you want your product to last longer, use distilled water as it's free of potential contaminants. Hard water (with high concentration of minerals) may react with the soap and produce a white residue at the bottom of the dispenser (it's still fine to use though).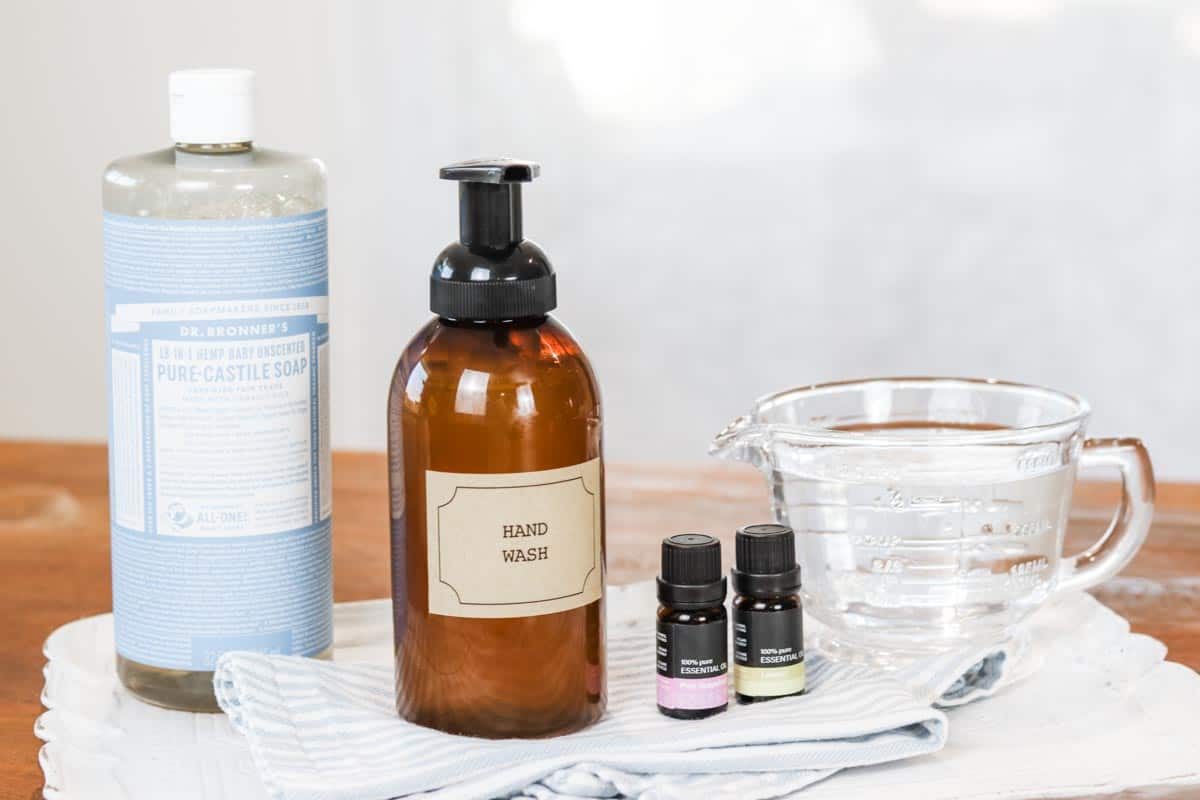 Method
Using the funnel add the essential oil to the dispenser.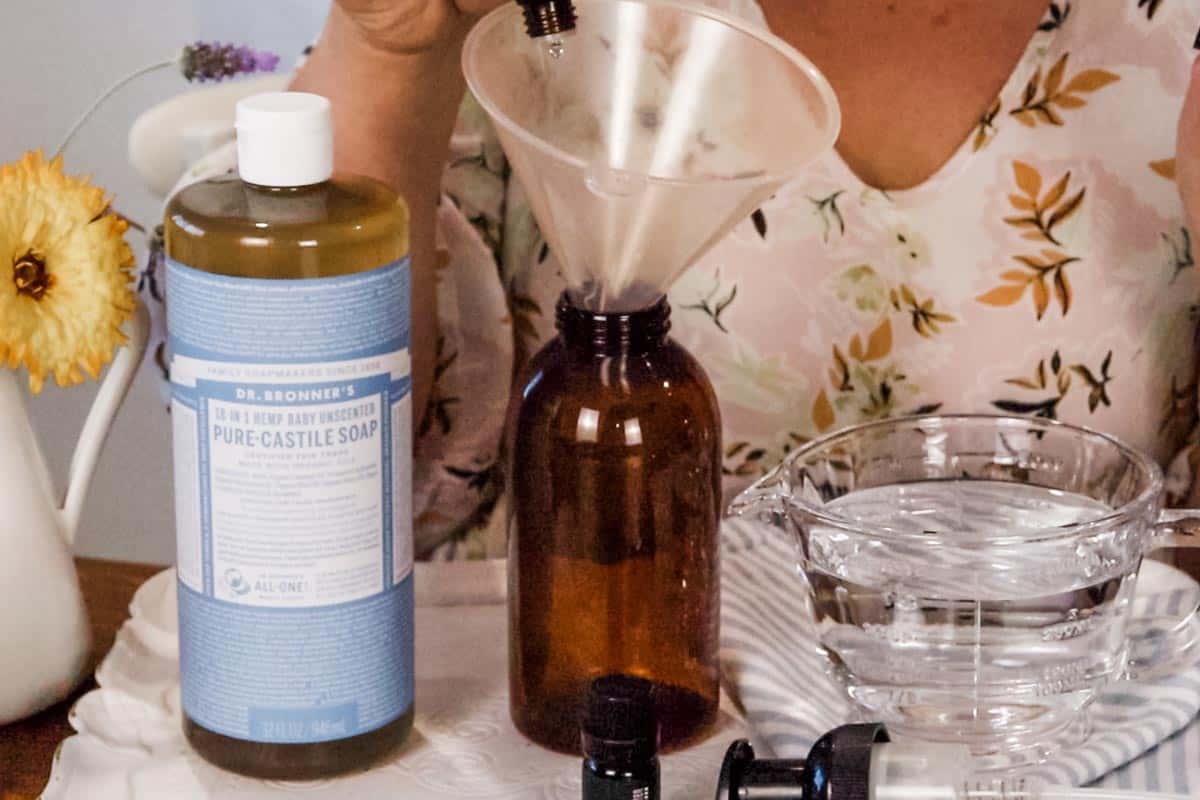 Follow this with the liquid Castile soap and then the demineralised water.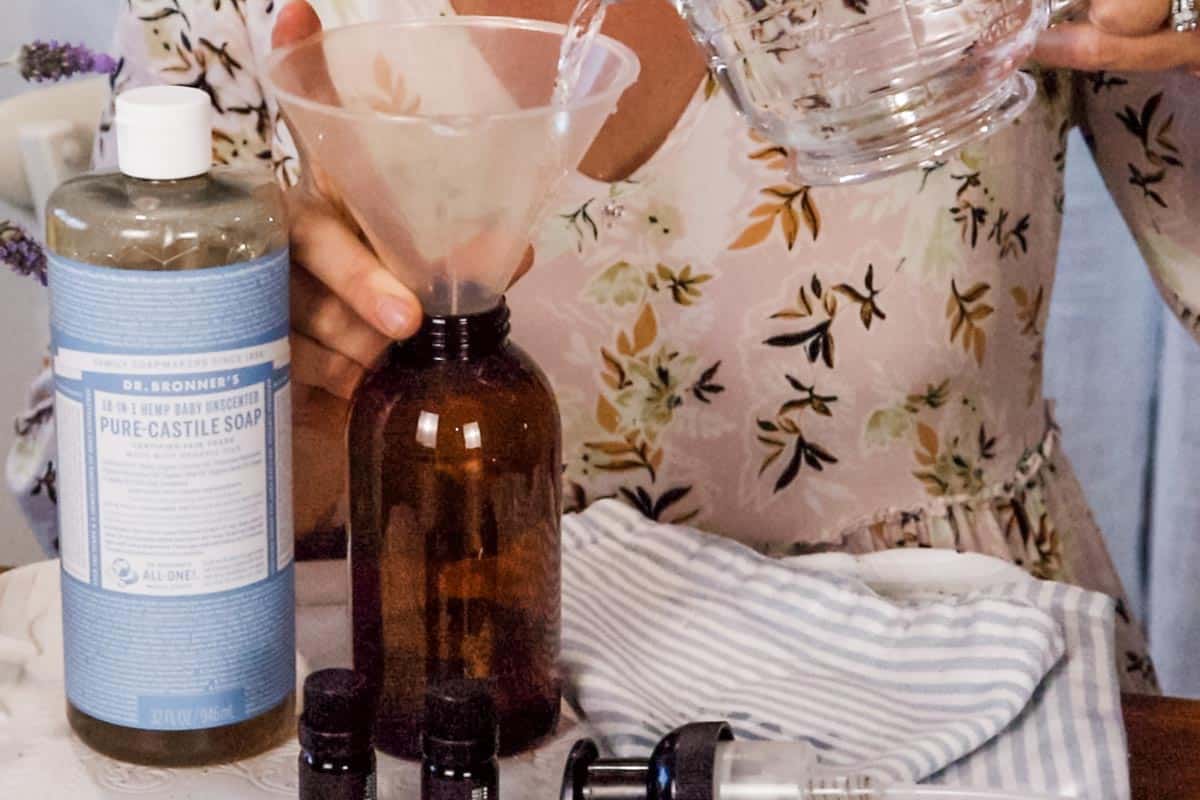 Screw the lid on the dispenser.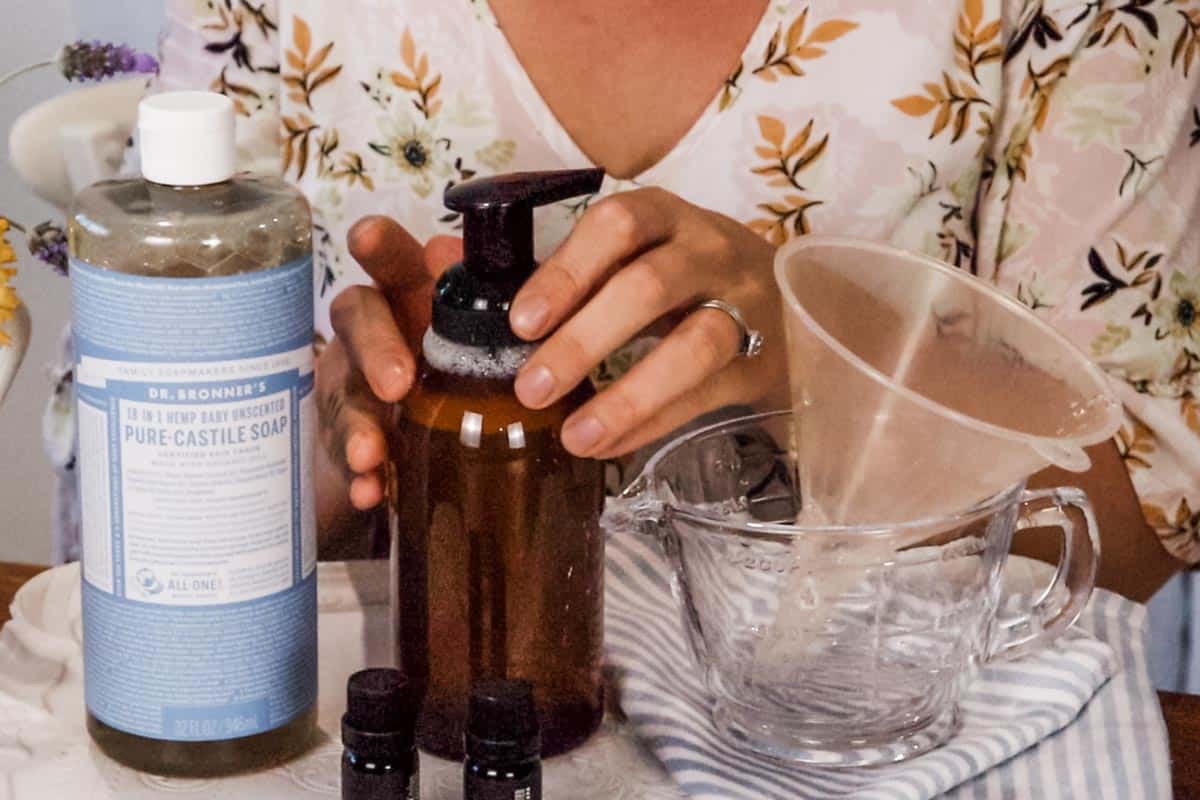 Shake well to combine and that's it, you're done!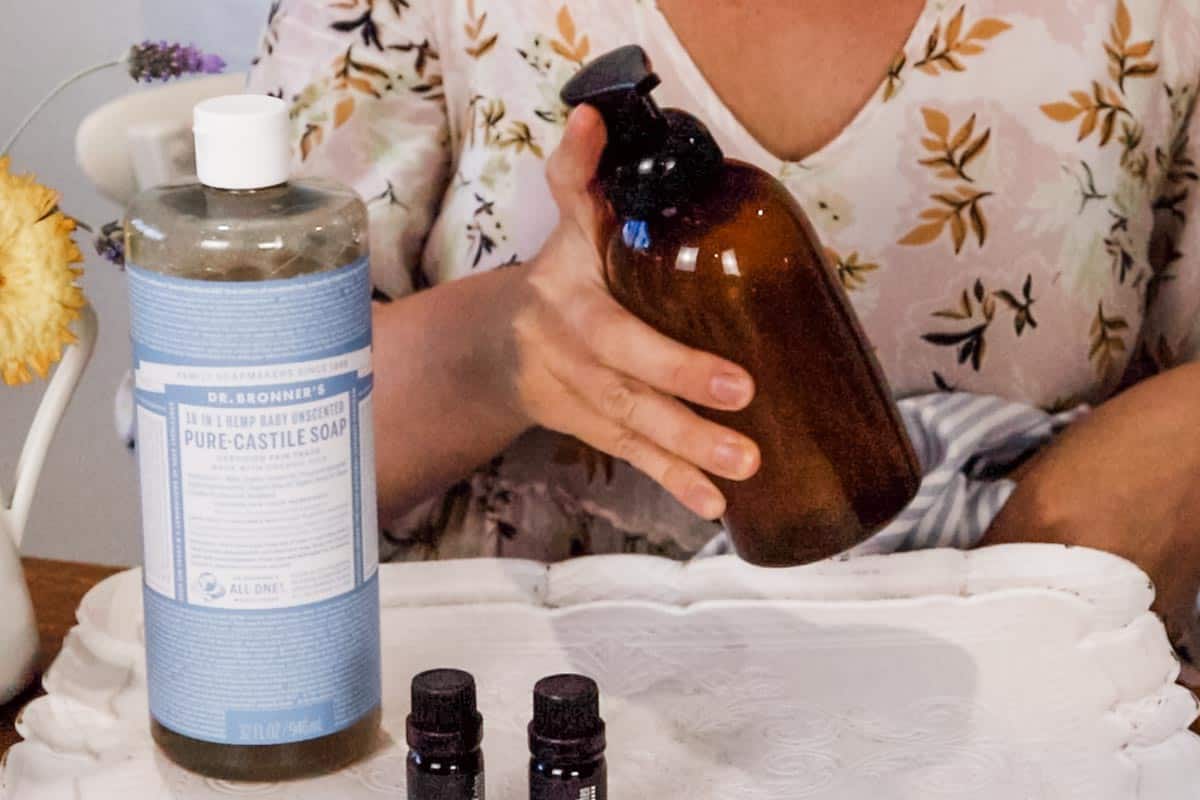 Watch the video tutorial
How to use Castile soap as hand soap
Squirt one or two pumps into the palm of your hand and wash normally. Rinse with water and dry your hands completely.
Sometimes the ingredients can separate. Just give your bottle a little shake before pumping.
If you're frequently washing your hands and want to add some moisturising power to your hand soap, simply add a tablespoon of olive oil or another carrier oil to the mixture. Shake well.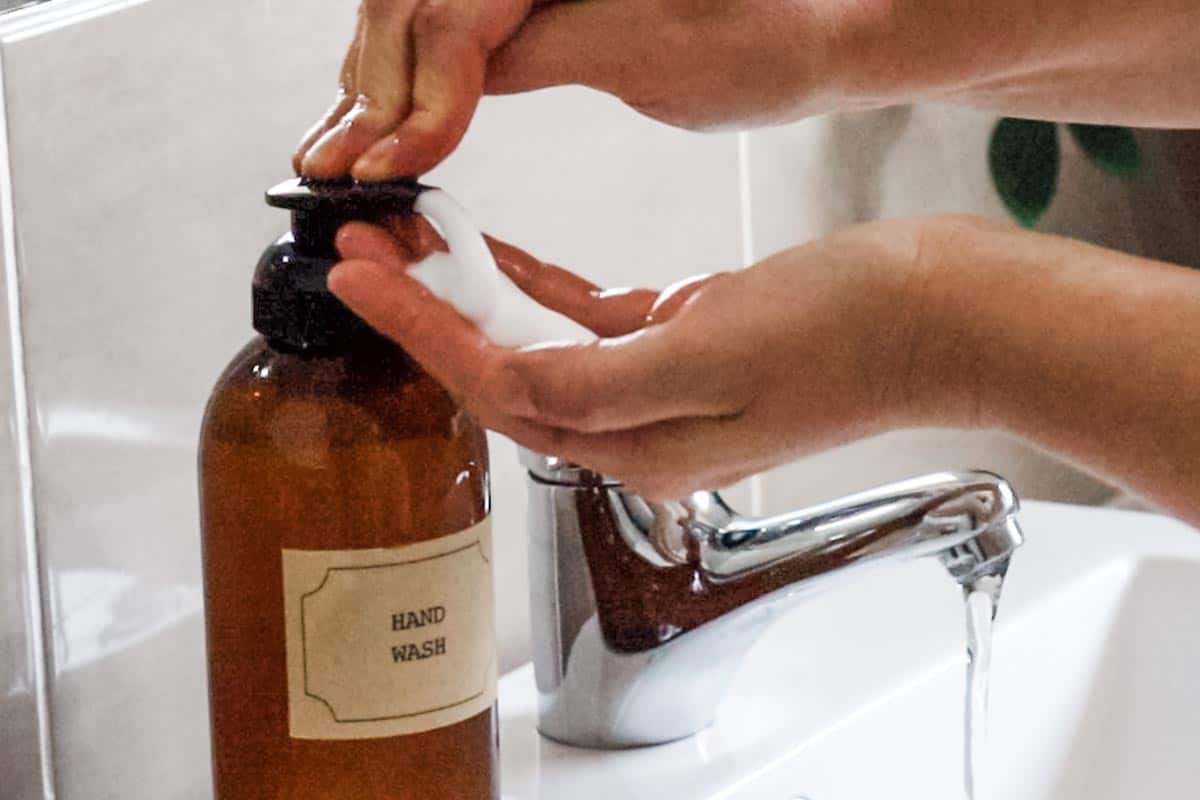 Frequently Asked Questions
Can Castile soap be used as hand soap?
Yes it can. You can use Castile soap undiluted, or diluted with water to make it stretch further.
Can you use Castile soap to hand wash clothes?
Absolutely. Castile soap has a wide variety of cleaning applications. If our clothes are heavily soiled or stained you may need to pre soak using oxygen bleach (sodium per carbonate).
Dr Bronner's recommends using 80-120 mL soap for a large load in a regular washer.
How do you make Castile hand soap?
If you're feeling extra tricky you can even make your own pure Castile soap. A quick Google search found this recipe.
How do you thicken Castile hand soap?
Pure natural Castile soap is thin by nature and becomes even more so when diluted with water.
I've read that you can thicken Castile soap by adding iodised salt, or by adding Xanthan gym to the diluted soap, but that seems like unnecessary extra work I'd rather avoid. That's why I recommend using a foaming dispenser instead.
How do you dilute Castile soap for hand soap?
I have found the best dilution ratio for foaming hand soap is 1:5, or one part liquid Castile soap to five parts water.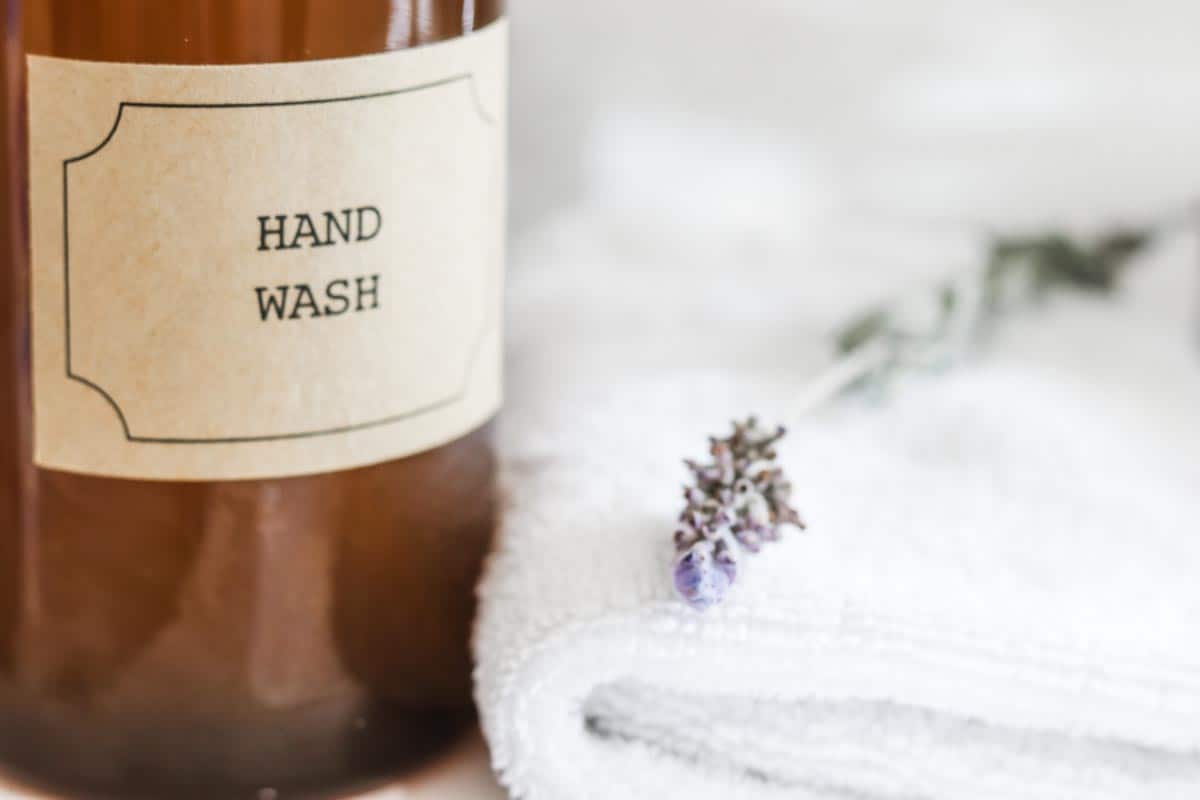 We hope we've inspired you to try something new and shown you just how easy it is to make your own natural hand soap.
Ready to make the switch to natural cleaning products? Check out my eucalyptus cleaning spray recipe, and if you're interested in making your own natural beauty products, try my homemade botanical bath salts or lip balm with essential oils.
Thanks for following along.