Learn how to create a cozy DIY fake corner fireplace using an electric heater. This quick and easy project is great for creating a warm in inviting feature in your farmhouse family room on a tight budget, and is easily removable.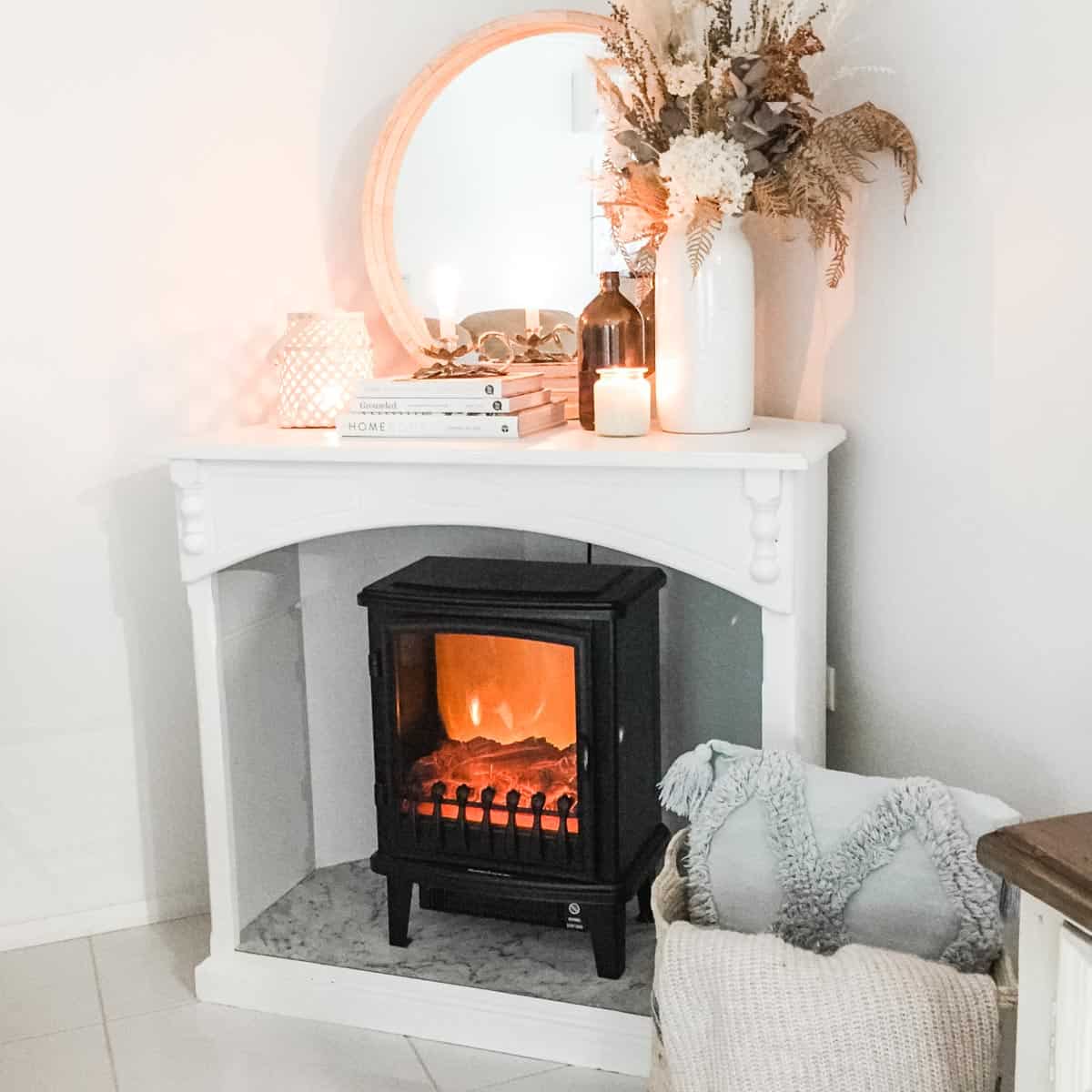 For the longest time I have dreamed of having a cozy wood burning fireplace in our farmhouse inspired family room. Even though it doesn't really get that cold where we live I love the warmth and ambience a wood burning stove brings.
My obsession started early. When I was growing up my grandma would light her fireplace and I would snuggle up in front of it on cold winter mornings.
My friend Michelle from @our.mountain.life over on Instagram has an electric fireplace and mantle in her farmhouse-inspired home. It makes a beautiful feature and creates a stunning focal point in the living room. Hers was professionally made and installed, but it inspired me to make a DIY fake fireplace for our own home.
Since I didn't want to spend much and couldn't have anything 'installed' in our rental, I opted for a free-standing electric fireplace which I found on Facebook Marketplace for $100. They usually retail for around $200 new and this one was only 1 year old. It was perfect, but it needed a home. I wanted to create some kind of mantle to set off the heater and host seasonal decor.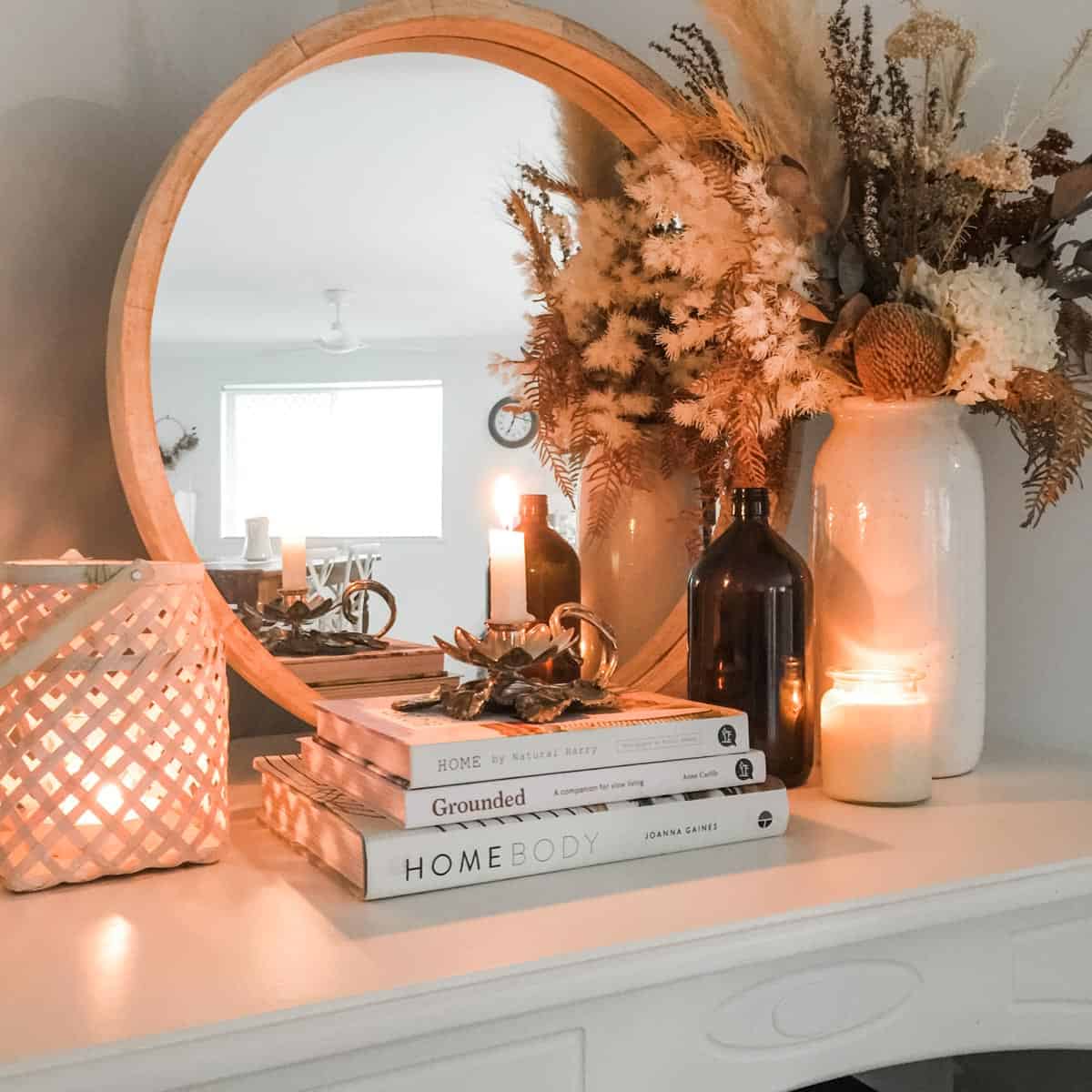 I could have tried to build a DIY fake fireplace mantle from scratch (like this one from Farmhouse on Boone), but if there is an easier option I am going to take it! I had an idea to repurpose a corner TV unit after spending some time on browsing on Pinterest (check out my Pinterest Board).
I found a great used corner TV unit on Facebook Marketplace which I knew I could turn into a faux mantle with a bit of elbow grease and paint. It has just the right mantle-like details which I love. Better still I could use the pre-existing cord opening for the TV to run power to the heater.
How to make a fake corner fireplace
Tools you will need
Screwdriver
Hammer
Plyers
Angle grinder
Eye protection and mask
Sander and sand paper
Rolling brush
Paint brush
Paint tray
To do list
Source the materials: heater, TV unit, paint, vinyl tiles
Remove the doors and inside shelf from the TV unit
Lightly sand the surfaces
Apple 2 - 3 coats of paint, allowing drying time between coats
Install the vinyl tiles
Install heater
Decorate mantle
Watch the tutorial
What is a fake fireplace?
With a fake fireplace you can have the warm, cozy ambience of a fire in your home at the flick of a switch, without lighting an actual fire.
A DIY fake corner fireplace is a great option to save money or see if you really need or like having a fireplace.
Going faux means you don't need to buy, store or chop firewood. There is no regular maintenance like having the chimneys cleaned. You don't need firefighter and there are no flames. All in all it's a pretty good option to add a touch of farmhouse charm without the hassle.
How does a fake fireplace work?
Our fireplace is electric, so essentially it is a simple heater with a fire-look (flame) effect. It has two heat modes, or you can have the flame effect only.
You simply turn the heater on when it 's cold, and turn if off then you're warm enough.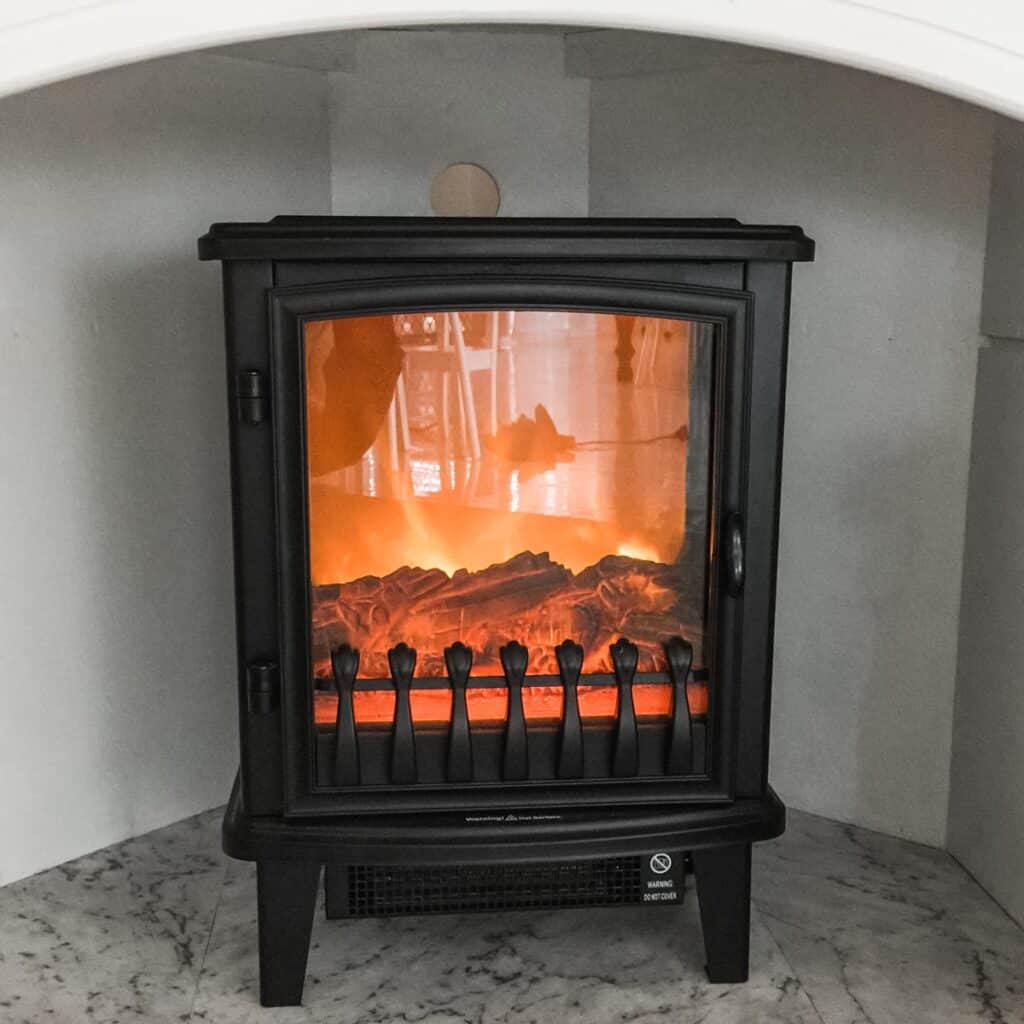 How much does it cost to make a fake corner fireplace?
All up our DIY faux fireplace cost $228.
Heater $100
TV unit $50
Paint $60
Vinyl tiles $18
How to decorate a fake fireplace
I love simple farmhouse style, so I have added a mirror, candle and some dried earthy-tones florals to our DIY faux fireplace to create a cozy winter look. You could even add a basket of faux firewood, and some chunky throw rugs to up the style factor.
I am all about embracing the seasons and decorating with natural elements and seasonal touches. In Christmas it will be the perfect place to hang stocking, a garland and some ornaments.
This faux fireplace would make the perfect addition to any farmhouse family room or bedroom.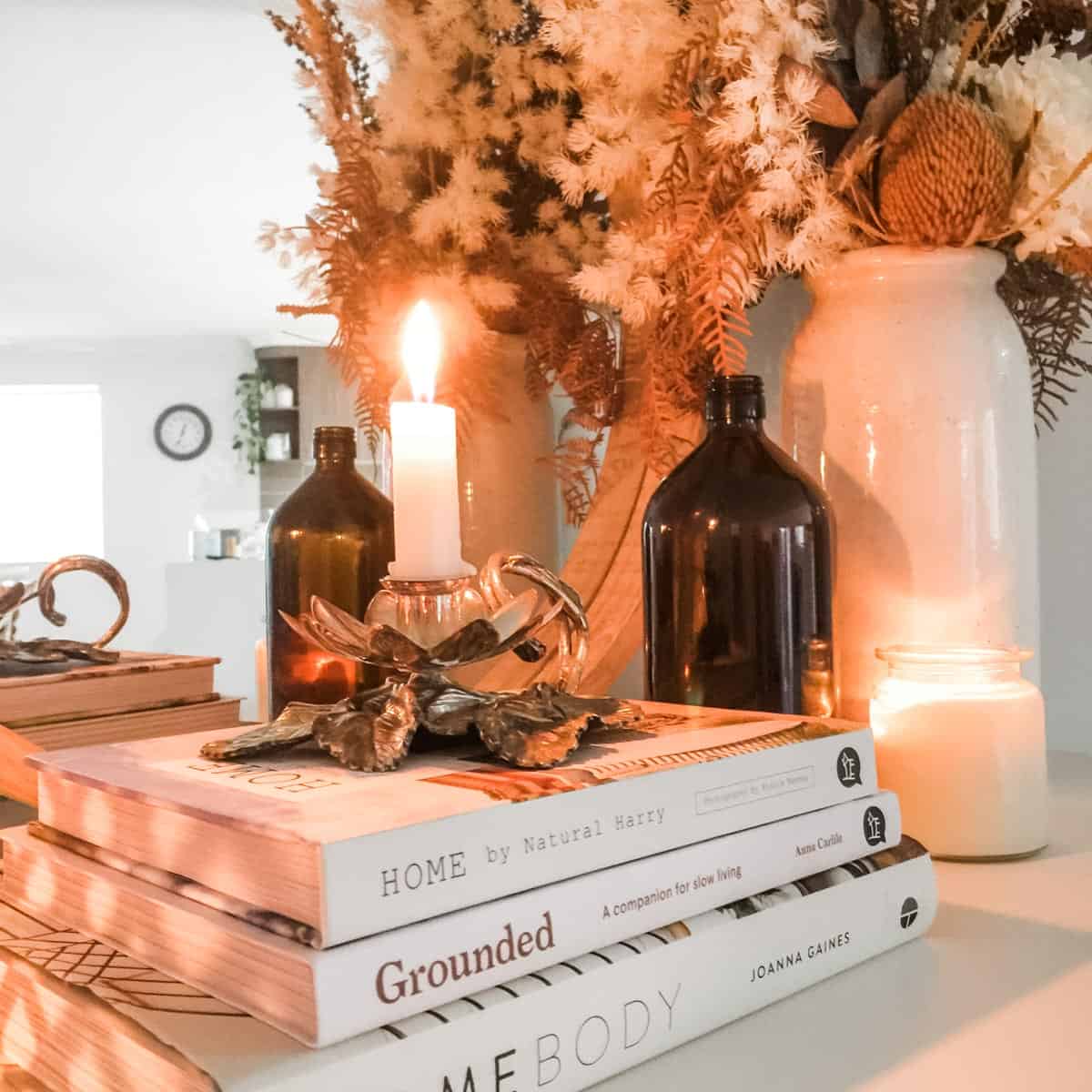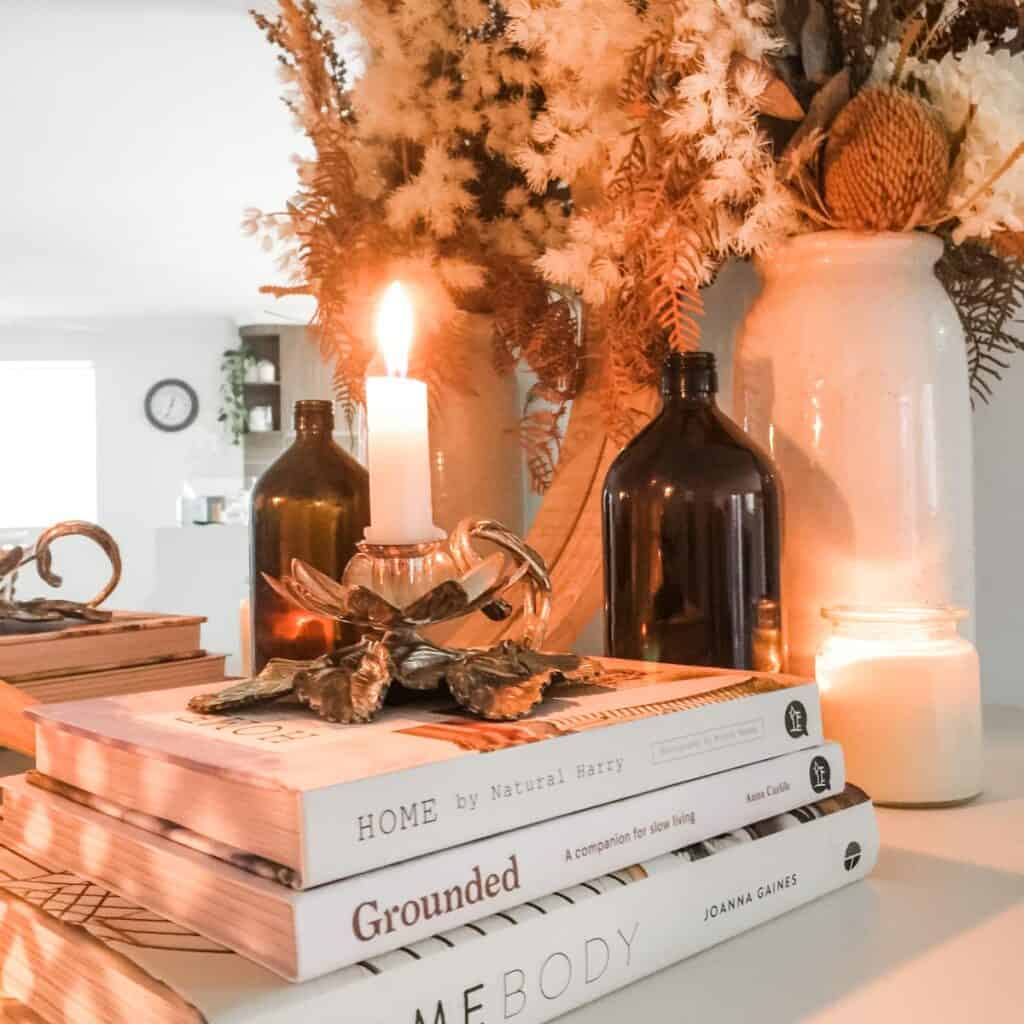 If you try your hand at this project tag me on Instagram @pineapplefarmhouse and show me your amazing creation.
Thanks for following along!