In this blog I'm taking you inside our little suburban homestead to share my favourite thrifty cottage Christmas decorating ideas. Be inspired by these budget-friendly DIY Christmas decorating ideas to make the most of this cozy season.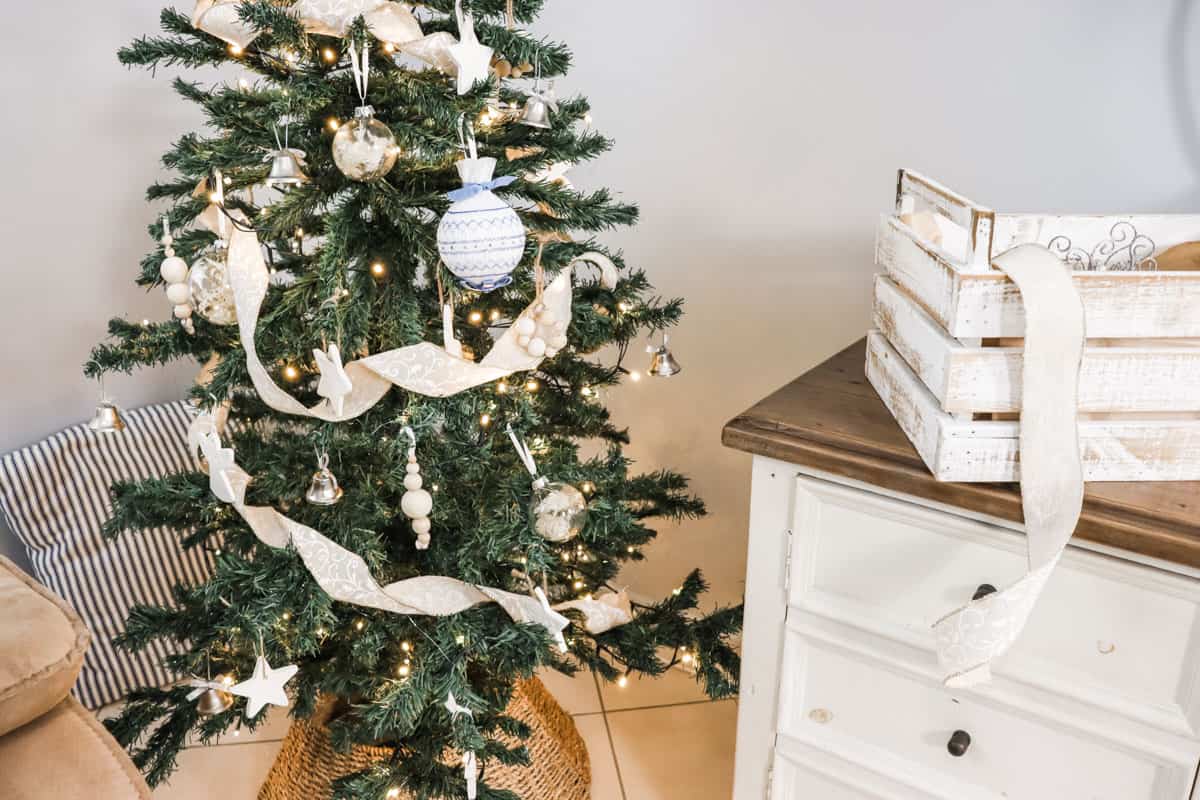 I love decorating for Christmas. It's one of the only times I go to a lot of effort to swap out my home decor.
Even though here in the Southern Hemisphere we celebrate Christmas in the middle of summer, I still love decorating my home with cozy cottage-farmhouse inspired decor.
The air conditioning is usually blasting away, so inside it can quite often feel quite cool. And after a long summer's day, I love snuggling up under a throw on the couch, next to our faux fireplace, surrounded by the twinkle of fairy lights and the soft glow of candles.
It really is the most magical time of the year.
Decorate with me
It can be tempting to spend lots of money on new Christmas decor, especially when your Pinterest feed is filled with inspiration and the stores are overflowing with shiny new things.
However, I really like to embrace a simple, nature-inspired cottage style aesthetic and prefer to decorate with collected, thrifted and DIY items.
In this blog I'll be sharing some of my favourite ways to decorate with thrifty cottage Christmas style so you too can enjoy a cozy Christmas without blowing the budget.
Top tips
Shop you're home and use what you already have!
Repurpose items in new and creative ways
Purchase decor items that have neutral tones so you can use them again and again
Purchase new decor at the end of the season for the following year at a huge discount
Start visiting thrift stores in November to snag some bargains before you hit the shops.
Thrifty cottage Christmas living room decorating ideas
The living room is one of my favourite places to spend summer nights with a good book or movie.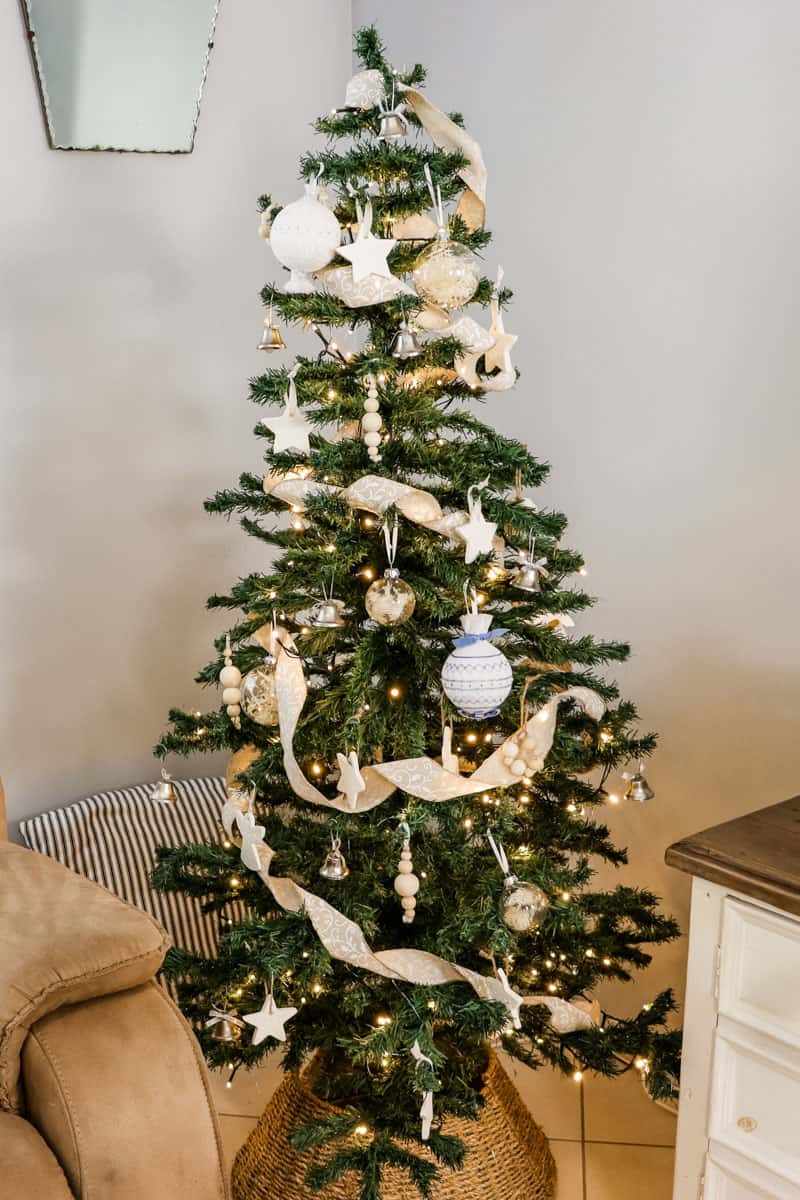 It plays home to our Christmas tree which I have decorated in neutral tones with rustic and handmade ornaments and linen-look ribbon.
Christmas trees can be expensive, but I'm still using my old faithful ex-display model I bought for $10. Its greenery is quite sparse which I think l lends itself well to the cottage aesthetic, and fits perfectly in this space.
Sources: Tree, Pillowtalk. Ribbon, Big W.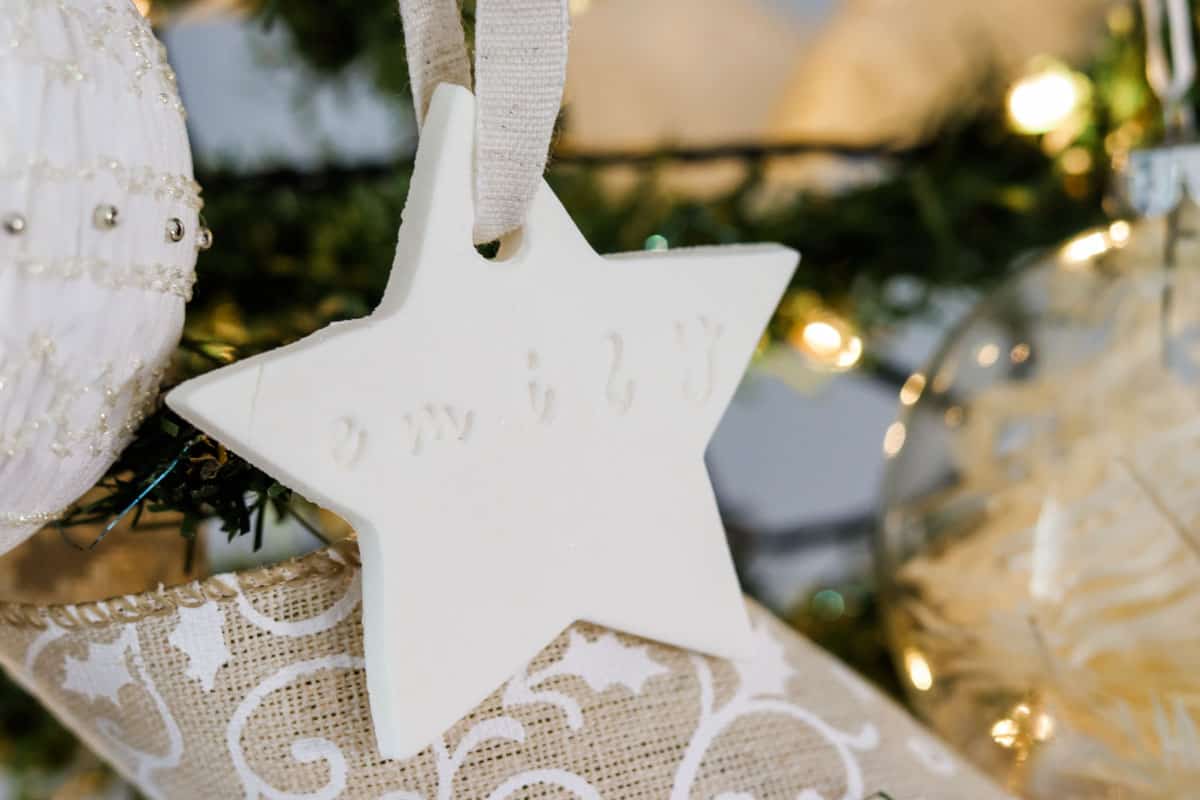 My favourite DIY ornaments are my Baking Soda Christmas Ornaments which are super simple to make and a lovely way to embrace your creative side. They cost pennies to make and you can customise them to any shape or size, emboss them with lace or stamp them to create sweet messages.
Sources: Jute Twine, Big W. Letter stamps, Kmart.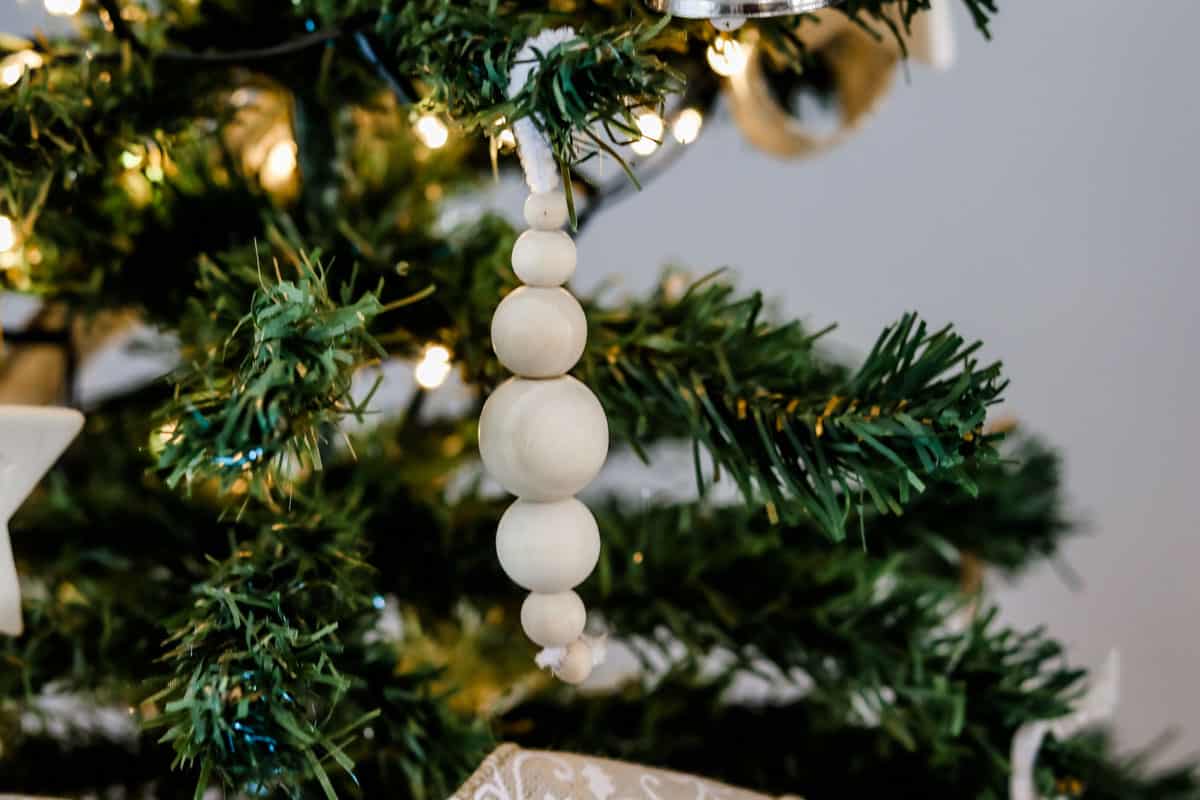 Last year Elsie and I made natural wooden bead ornaments by simply threading wooden beads onto white pipe cleaners. These ornaments are simple to make and inexpensive with all materials coming from the craft section of the dollar store.
Cottage Christmas mantle inspiration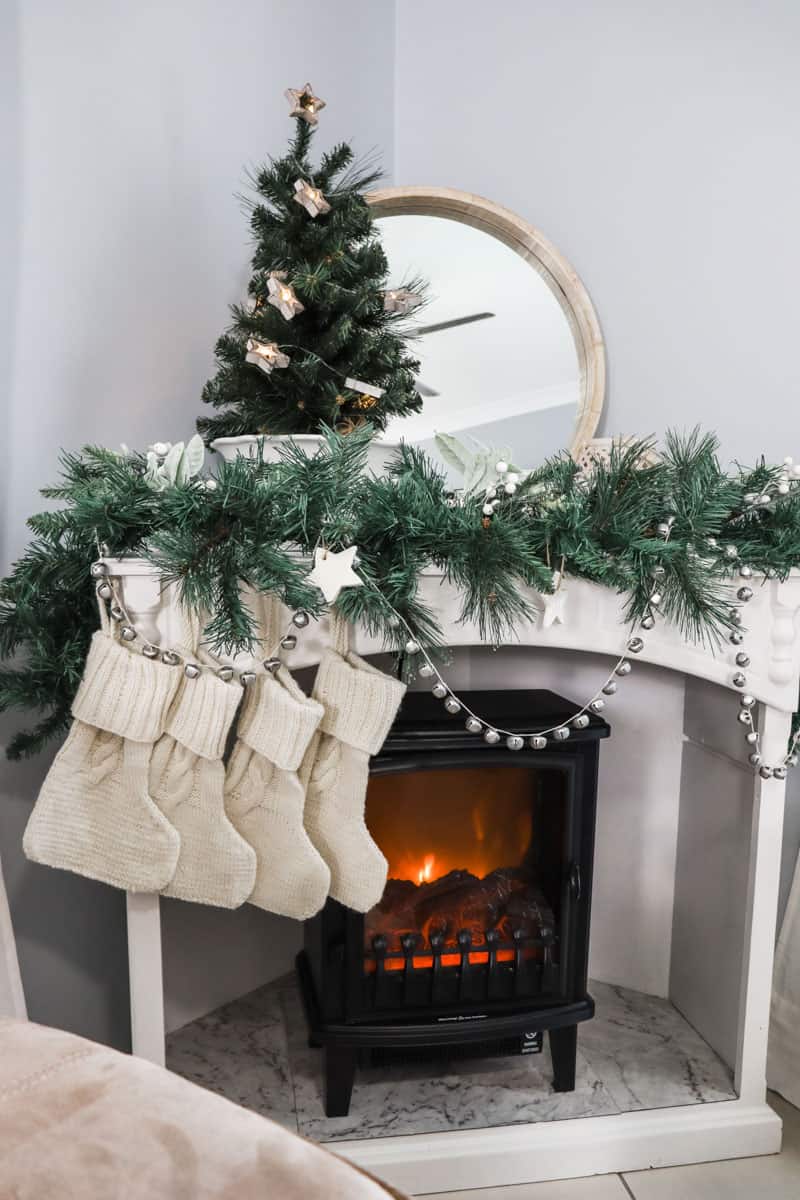 Having a place to decorate for Christmas and hang stockings was the main reason I designed and built my DIY faux fireplace. This year I've added a greenery garland, with a couple of berry picks as accents, some of my baking soda ornaments and a silver bell garland.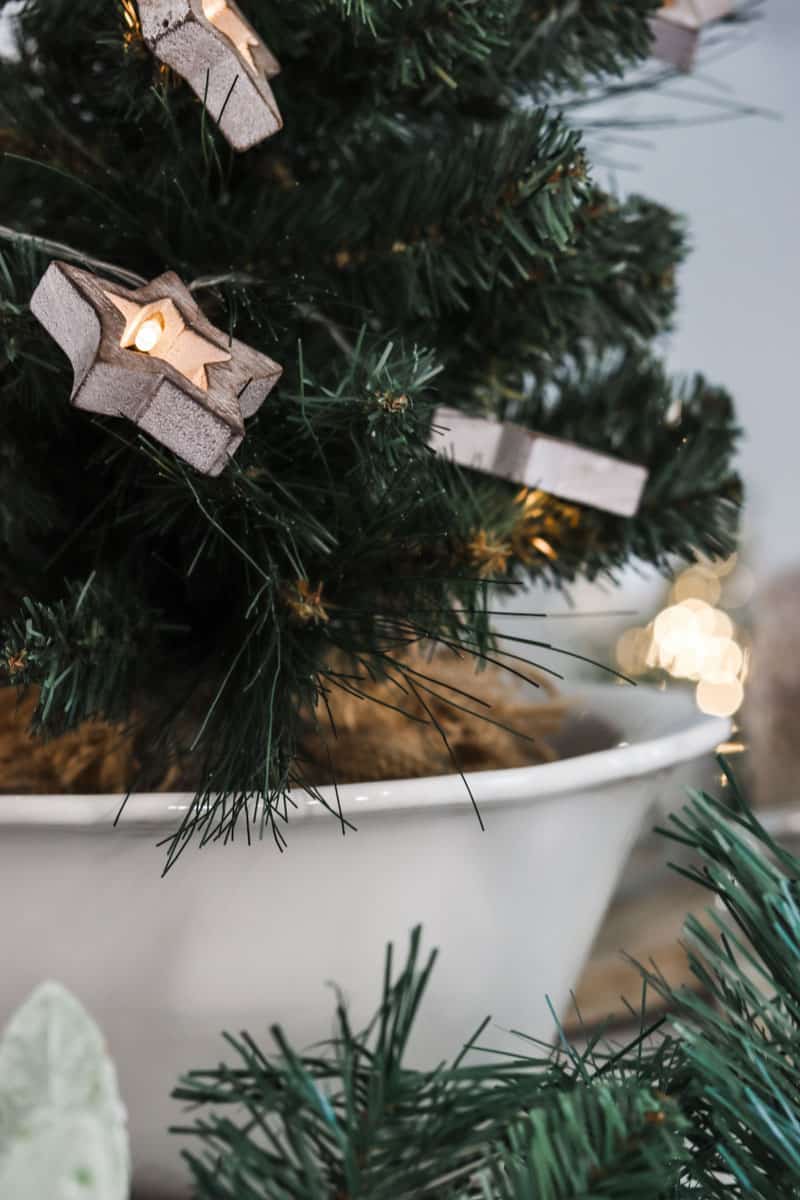 On top of the mantle I have placed a small Christmas tree which I got on clearance at my local pharmacy in a thrifted vintage-style mixing bowl.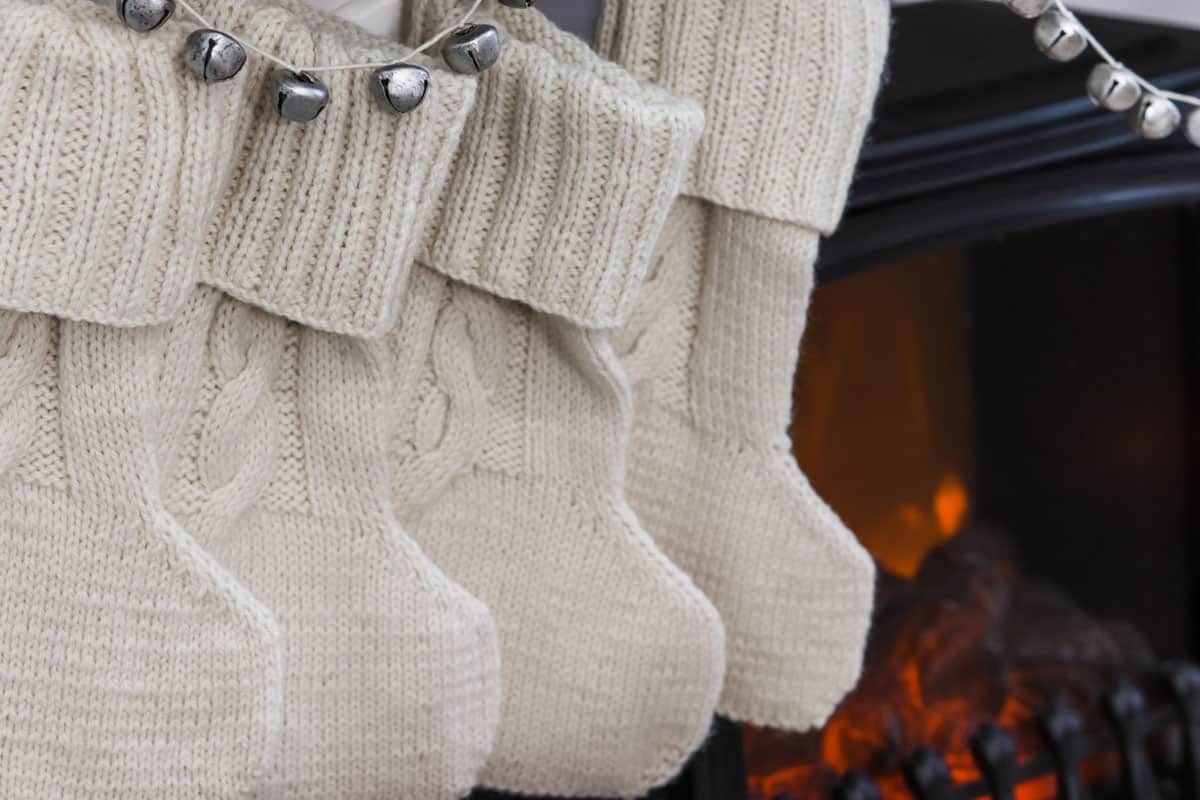 The sweet cable knit stockings were knitted by Justin's grandmother. The pattern is available on Etsy. I can't wait to fill them with goodies on Christmas Eve.
Sources: Garland, Royal Collectibles Yeppoon. Berry picks, Big W. Bell garland, wooden tree lights and white candle lantern, Bed Bath and Table.
Thrifty cottage style Christmas wreath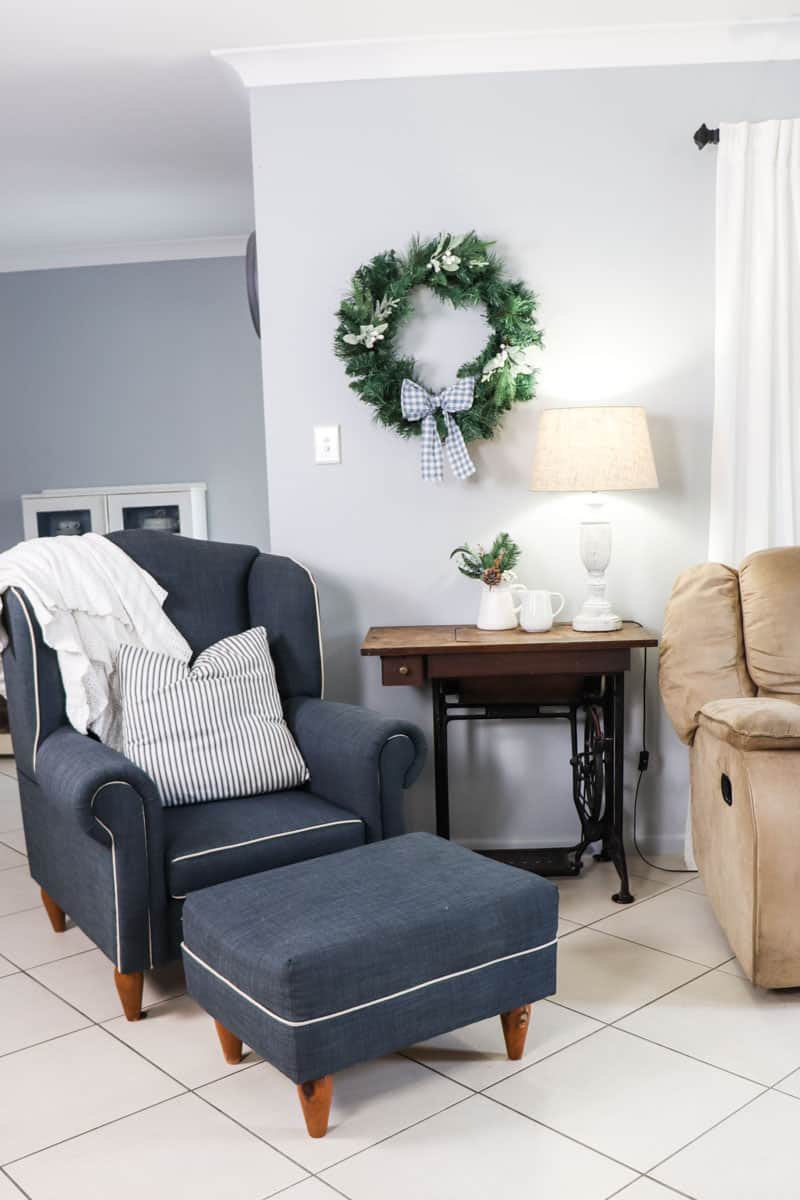 I made a simple cottage-style wreath using some left over greenery garland and attaching it to a large embroidery hoop I had on hand. I then added some berry and greenery picks and a large bow made out of scrap fabric.
Hot tip: Always purchase your more expensive decor pieces during the end of season sales to use the following year. I got this garland for half price last year and was able to use it to make both my cottage style wreath and mantle decor.
Pitchers adorned with greenery and white berry picks and an heirloom crochet throw help bring a cozy cottage vibe to this little reading nook. The cushion slips were sewed by me.
Sources: Garland; Royal Collectibles Yeppoon. Embroidery hoop, Spotlight. Greenery picks, Big W.
A different kind of advent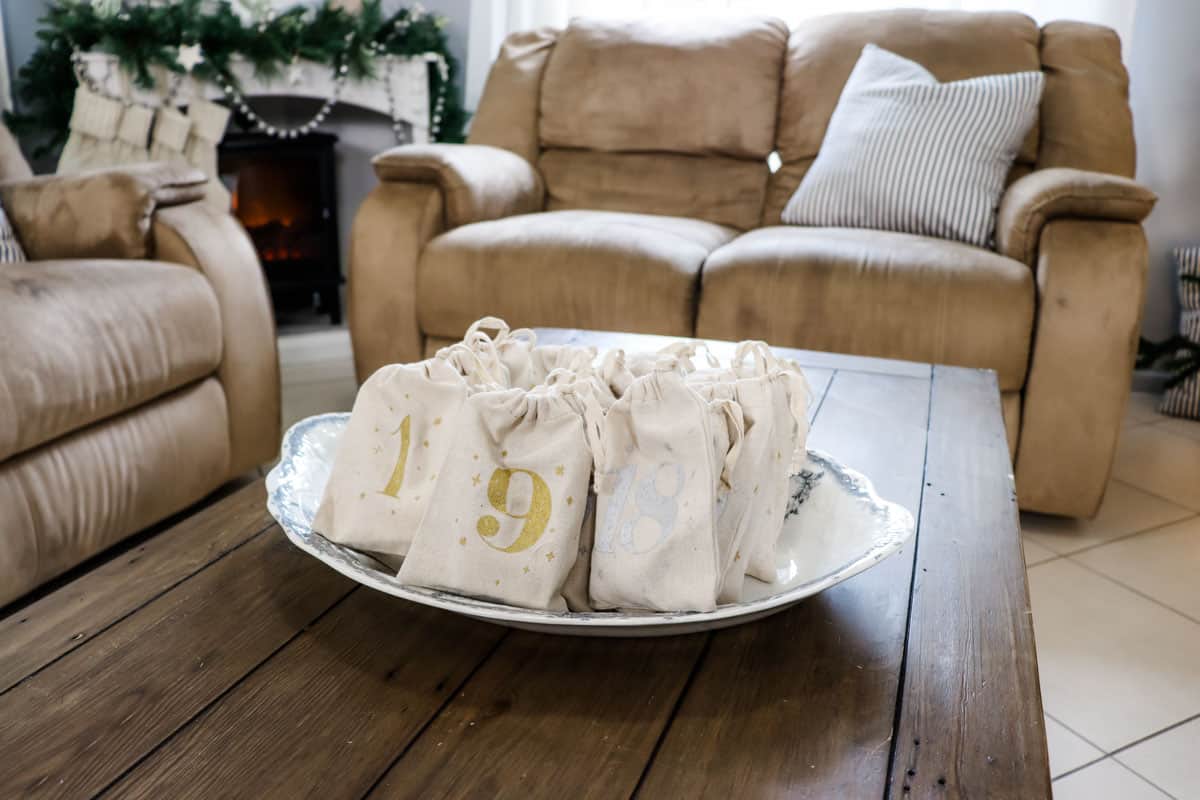 Last year I found this great little Camp Quality 25 days of kindness advent calendar at my local thrift shop. Each bag contains a card which outlines with a seasonal kindness-inspired activity for the day and a little Christmas chocolate for Elsie and William. This year I have arranged them on a thrifted vintage platter.
I'm looking forward to our first activity on December 1, 'enjoy a family game outdoors'. We'll also be baking cupcakes to share with friends and neighbours, and creating our own Christmas cards.
Unfortunately these are no longer in production, but why not create your very own custom version!
Thrifty cottage Christmas dining room ideas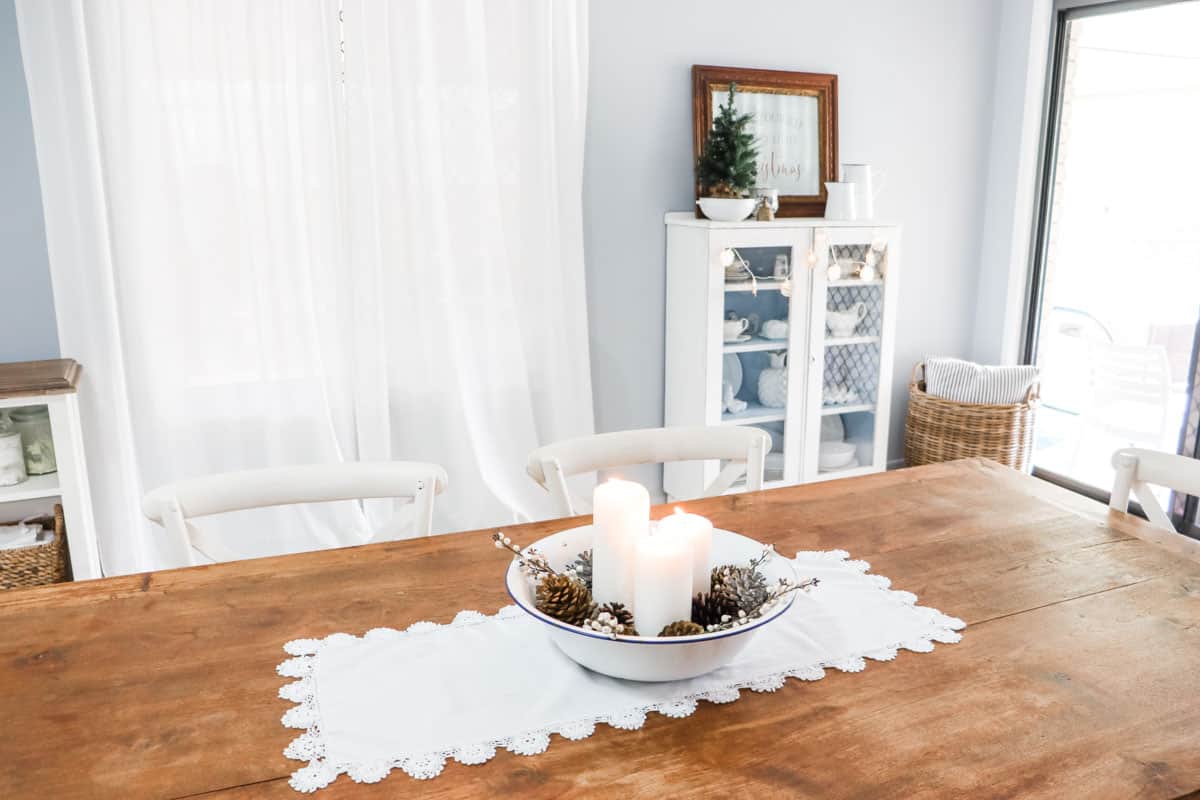 The dining room is where we all come together to enjoy the Christmas feast so it's worthwhile spending a little time to make it feel warm and inviting without being over crowded.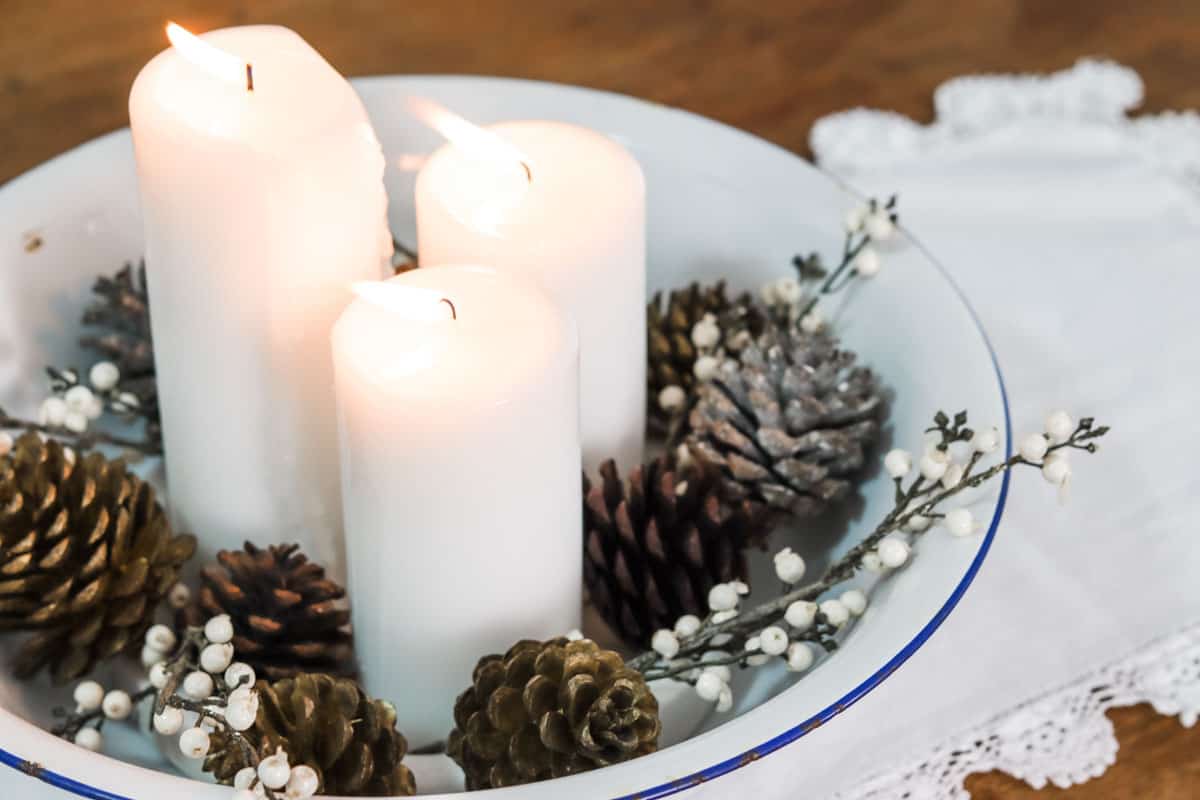 For the dining table I have gone with a simple thrifted table runner with a crochet lace edge. Onto this I placed an heirloom enamel washbasin as my centrepiece.
Inside is a marble tray and three pillar candles. Pinecones and some thrifted white berry picks provide the perfect natural touch for a budget friendly centrepiece that will last all season.
Sources: Pillar candles: Big W.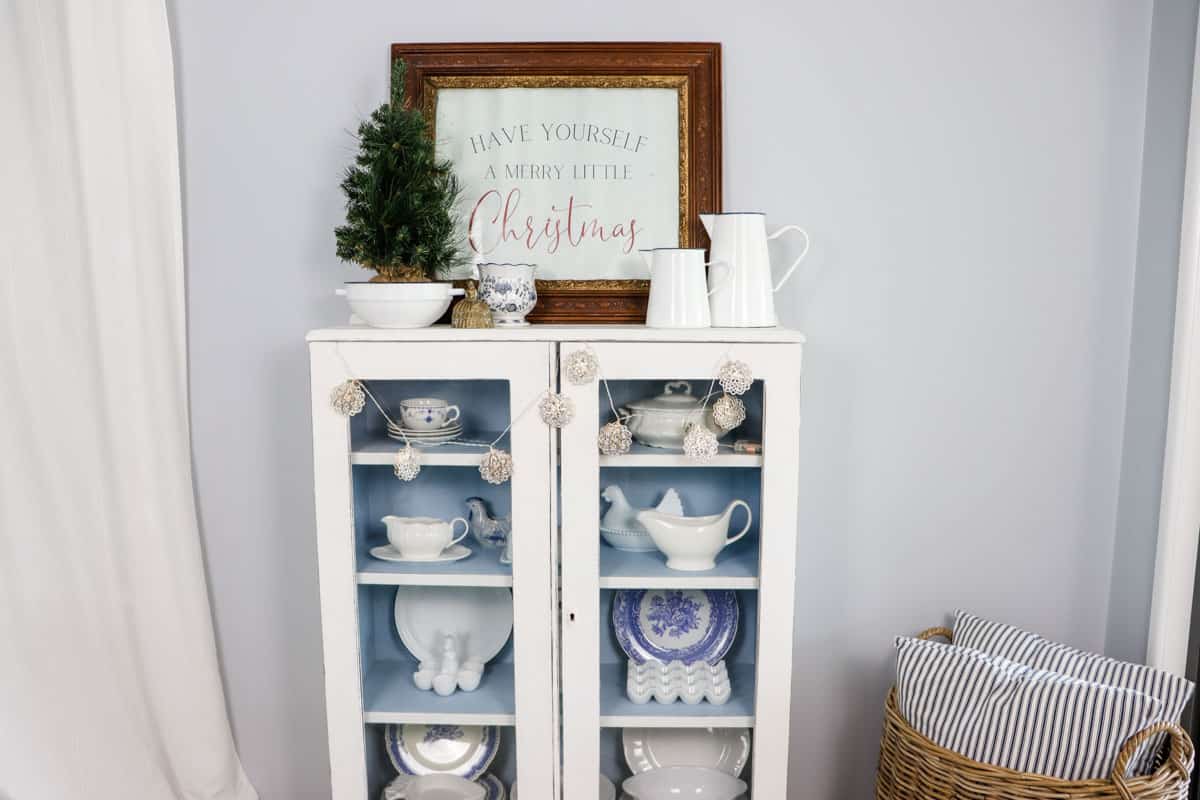 The china hutch is adorned with twinkling silver medallion lights, a mini tree in a thrifted enamel bowl, heirloom brass bell and enamel pitchers. But what really makes this space pop is the repurposed heirloom picture frame and vintage-style print I purchased from Etsy.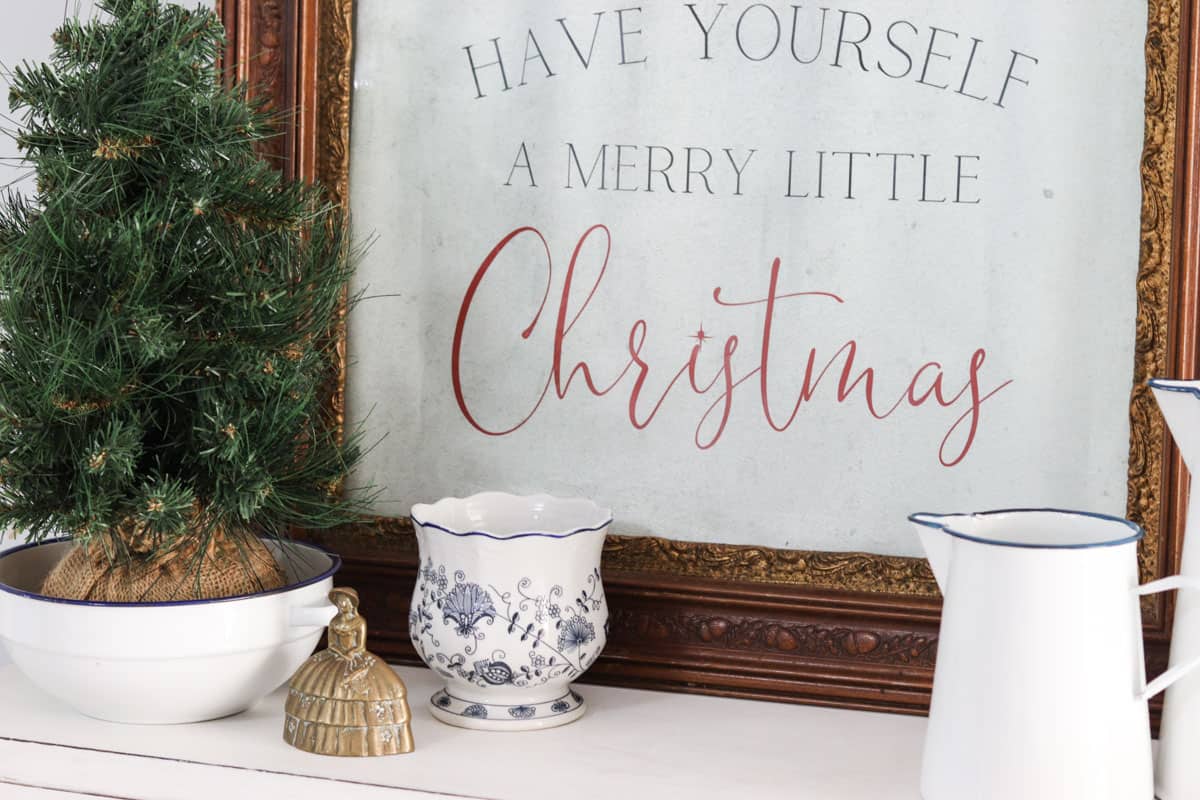 Sources: Medallion lights, Bed Bath and Table. Enamel pitchers, Falcon Enamelware.
Cozy cottage kitchen
The kitchen is the hardest working room of the house so for me the decor needs to be practical and beautiful at the same time.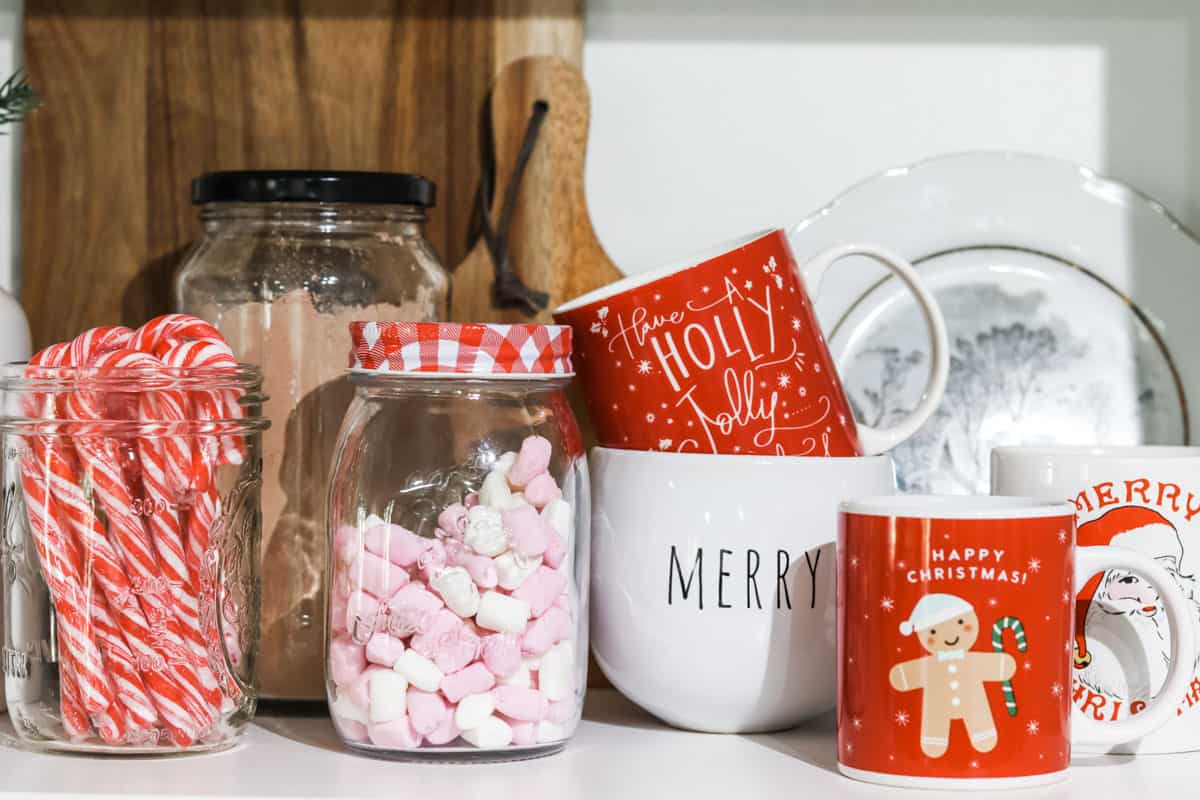 I was inspired to set up a hot chocolate bar on my open shelves with supplies in glass jars alongside thrifted Christmas mugs and snow-scene plate. The kids love it and I'm looking forward to many happy evenings sipping hot chocolate together.
I also grabbed some cute Christmas cupcake baking supplies, wrappers, picks and cookie cutters and put them in glass jars for a cheery festive touch. I feel a lot of holiday baking coming on!
I hope you have enjoyed browsing my thrifty cottage Christmas decorating ideas and feel inspired to start turning your own home into a cozy space for the holidays.
Thanks for following along.
Join our blog hop! Looking for more simple, DIY Christmas decorating ideas? Jump over to my friend Celeste's blog That Zoi Life and check out her Burlap Christmas Wreath tutorial.